Earlier this year, my nine year old son and I read Rebecca Stead's When You Reach Me, the 2009 Newbery Medal recipient and an overall amazing book. With an incredible book-within-a-book connection, the main character treasures the book A Wrinkle in Time, and there are some thematic commonalities between the stories as well. When we completed Stead's truly fantastic book (you can read Jennifer's review of When You Reach Me linked here, for a second, also gushing, opinion!), we decided that it was only logical to try out Madeleine L'Engle's novel, too.

Okay, I don't think I'm an Albert Einstein or anything, but I do consider myself to be at least semi-intelligent, and yet I have to say that this book gave me a run for my money as we read it aloud together! More than once, we turned to an online dictionary when confronted with some pretty sophisticated vocabulary, and overall, the concepts of traveling beyond the universe as we know it was sometimes challenging to wrap our heads around. This book has clearly stood the test of time as one of the most beloved children's novels for a reason, though- it's captivating and original and thought-provoking, and obviously well-deserved of its own Newbery Medal honor in 1963.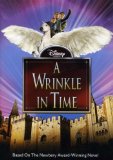 A few weeks after we finished the novel, I happened to see a film version of A Wrinkle in Time available on DVD at our library, so we rented it and wondered how in the world this book would be transformed onto the screen. Well… I would say that upon first impression, I thought that the main spirit of the novel was retained in the 2004 made-for-television movie, even as there were many small, as well as significant, changes from the book. Some of these changes can be chalked up to a modernization of the setting of the story, and others were probably the result of an inability to put on a screen what was challenging to even describe with words! While my son and I thought some other differences in the story were unnecessary, especially key points in the climax of the movie, we both were entertained by the film nonetheless.
While our opinions are simply based upon our own perceptions of both the book and movie, I cannot imagine a better critic to ask about the film adaptation than the author herself. According to Wikipedia, shortly after the movie was released, Madeleine L'Engle was asked her opinion of it in a Newsweek article.
NEWSWEEK: So you've seen the movie?
Madeleine L'Engle: I've glimpsed it.

NW: And did it meet expectations?
ML: Oh, yes. I expected it to be bad, and it is.
That's one opinion to consider, certainly.
Dawn's ideal world would involve less housework and laundry and more books and movies. She'd definitely keep blogging though, at my thoughts exactly.