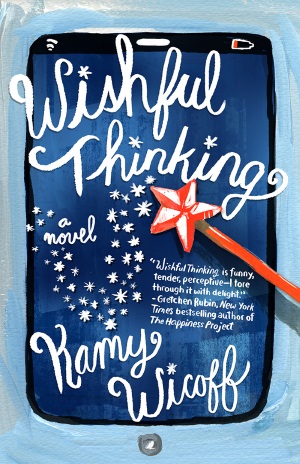 For a book about a magical app that adds hours to your day – in essence allowing you to travel through time – Kamy Wicoff's debut novel Wishful Thinking is grounded in the tender, sometimes heartbreaking realities of life as a modern mother.
Jennifer Sharpe balances a thankless, demanding career at the New York City Housing Authority with her responsibilities as a divorced mom of two young boys. She lives in a tiny, often messy apartment, where she sleeps on the pull-out sofa in the living room and unceremoniously cleans up cat vomit between caring for her kids and shuttling them between schools and activities.
All she wants is a way to do it all.
And thanks to Dr. Sexton, her mysterious physicist neighbor, Jennifer is given a way to do it all – the Wishful Thinking smartphone app. Part calendar, part wormhole ripping through space and time, Wishful Thinking gives Jennifer the ability to be in two (sometimes three) places at once, and soon she's volunteering on school committees, picking her kids up from school, working long hours, having play dates with friends, and even fostering a budding new romance. She does it all, and then some. But what begins as a little experiment soon becomes a near obsession, and Jennifer's body, mind, and relationships begin to suffer.
I've seen Wishful Thinking billed as a comedy, and there is some humor. The writing is sharp and clever. I've also seen the book billed as a romance, and there's definitely some of that, though drawn in wide, general strokes. But the humor and romance really just play as a backdrop to what feels like more of a commentary on the challenges of motherhood and "doing it all." I was particularly struck by a comment from Dr. Sexton, who discovers that instead of learning to balance all of her current responsibilities, Jennifer has simply used the app to take on three times as many tasks: "Don't use the app to amplify your martyrdom, Jennifer. Use it to amplify your life."
Wishful Thinking was a tight, well-written read, with likable, fully-developed characters. It was certainly more earnest than I expected it to be, but I was pleasantly surprised by that. There are moments when Dr. Sexton goes deep into the science of the Wishful Thinking app that I think most readers will simply skim, and the pace of the book is slow – for as busy as Jennifer is, this book is more a character study, with little in the way of action. Even so, Wishful Thinking was thought-provoking. I recognized a lot of myself in this book, and think many of today's mothers would relate to and enjoy this debut novel from Kamy Wicoff.

Stacey Nerdin is a personal blogger living near Portland, Oregon. She has five kids – with a grand baby on the way! – and writes about books, entertainment, parenting, travel and more at her blog The Scenic Life. You can also find her chatting away on Twitter.