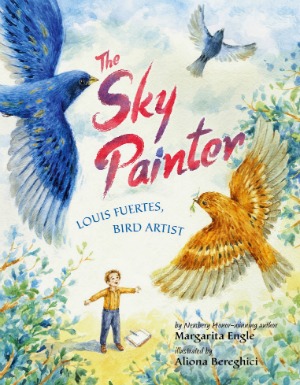 Louis Fuertes is best known as the Father of Modern Bird Art, according to the historical note at the end of the new picture book The Sky Painter: Louis Fuertes, Bird Artist. His murals grace the walls of the American Museum of Natural History in New York, and he changed the way artists captured the images of birds, creating his paintings from living specimen within their natural habitats. Margarita Engle's picture book features a collection of poems that tell Fuertes' story from different points in his life.
Beginning in childhood, Fuertes was fascinated with birds. Not only did he enjoy watching them around his home in Ithaca, NY, but he also cared for injured or orphaned birds, as well. Even at a young age, Fuertes showed talent at capturing birds' likenesses in pencil sketches, and he loved to look at large books of bird art at the library. As he grew older, he continued to practice drawing and painting images of birds, and his family's travels around the world helped him learn about a wide variety of birds, expanding his knowledge and giving him even more opportunities for artistic practice.
At the time, most bird artists hunted the birds they wished to include in their art, arranging their bodies to study for their paintings. Fuertes believed he could learn to observe and paint birds without killing them, and he continued to hone his skills in this way, learning to paint quickly to capture their appearances in movement. That even included diving into lakes to observe what water fowl looked like under the water! Through his adult life, Fuertes continued to study birds around the world in his travels and at his NY home, as well. His talent helped inspire children and adults alike to become interested in the birds around them, especially when his paintings were featured on collectors' cards included in boxes of baking soda in the 1920s.
My children and I have long enjoyed simple bird watching experiences in our own yard and neighborhood, and I appreciate any literature or resources that build upon that interest. I'm a little embarrassed to say that I had never heard of Louis Fuertes before reading this biographical picture book, even though he has been called "the greatest bird artist who ever lived"!
Engle's poems portray Fuertes' spirit and enthusiasm for bird art with tenderness, and she does a fantastic job of depicting him from childhood through his adult years. The watercolor and ink illustrations by Aliona Bereghici are vibrant and so full of life with more than two dozen different types of birds included and labeled in the pictures.
For a sneak peek at this gorgeous picture book, watch the book trailer below:
Author Margarita Engle has also created a downloadable Activity Kit for children to learn more about birds and explore Fuertes' style on their own. Be sure to read this one with any young bird enthusiasts in your life!