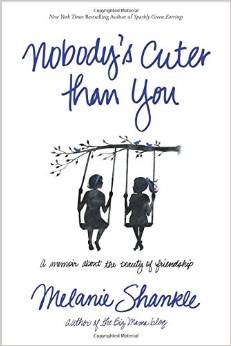 I enjoy Melanie Shankle as a person, her blog Big Mama makes me laugh, and I read and liked her earlier two books, so it was a no-brainer for me to pre-order her newest book Nobody's Cuter than You: A Memoir about the Beauty of Friendship. Yeah, you read right — I bought it. That's a big endorsement/step of faith for a book blogger who has more books to read than she can get to in any given month.
When I found out she was writing a book about friendship and I saw this book trailer, I knew I was in. Friendship is a little pet project of mine. I truly believe it's an acquired skill, or at least an intentional effort that one has to make. I love my friends, and I am truly thankful for them, those who have been with me for a season, for decades, and those I know will be with me for life.
This was a nice easy read. If you haven't found your people, it might make you sad or have some regrets, and it's true that there are no tips included on how to find your own Gulley. But in essay after essay, you hear that friendship requires effort — the effort, sometimes hard, to put yourself out there, to choose to make time for each other, to seek out people who are in the same stage of life as you and also continue to persevere even when you aren't.
The problem with books by bloggers is that they can seem a bit redundant if you read the blog, and the narrow focus led to that feeling as well. That said, I got lots of laughs, many fond memories of the 80s and 90s, and a resolve to keep my friendships strong and make new ones stronger.