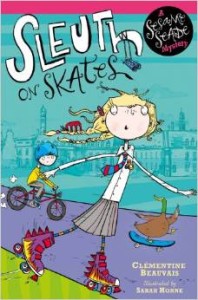 Sophie Marguerite Catriona Seade is the bane of her parents' existence. Their favorite phrases consist of, "Sigh. The problem with Sophie is that she's a (negative word) little (obscure name)." Fortunately, she goes by Sesame and has quite a precocious attitude towards life in Sleuth on Skates by Clementine Beauvais. She's always wanted to be a roller skating detective, and finally there is a mystery for her to solve in sleepy Cambridge.
Sophie's parents both work for the university, with her mom the Head of Christ's College and her dad is the college chaplain. They are busy with their lives and are always surprised when Sesame shows up in unexpected places on her skates. When a student goes missing, her parents go the traditional route, but Sesame decides this is her perfect mystery and gets started with her sleuthing.
It soon becomes apparent that something's afoot, but no one believes that she could possibly learn anything. However, her persistent questions and a penchant for listening coupled with a bit of luck turn up bits of evidence of a bigger plot, though what it could be, Sesame has no idea.
I love the perkiness of Sesame and her unusual ideas and belief in equality of everything from the pregnant duck who shows up in their yard to their cat Peter Mortimer. She tries not to get too attached to the students because they are transitional, which I think is cute. And precocious describes her perfectly. She's spunky and doesn't give up, but she's nice about all of it.
Though she disobeys her parents, she does so for the right reasons and only after working through the logic of how what she is doing is the right thing. Inevitably it is, and she never comes to harm. Though it is most definitely a book aimed at elementary school kids, it was a fun and quick read for me as an adult.
My children, however? They devoured the book and giggled through much of it. There is enough material based on fact that it wasn't too fantastical for them, yet there was so much out of the ordinary that it kept them entertained. Though I figured out the plot and the bad guys long before Sesame did, the wee ones were pleasantly surprised to learn the villain. That to me makes this a great grade 3-5 book.
This is the debut novel for Clementine Beauvais who is a PhD candidate at Cambridge and wrote the novel while writing her thesis. It doesn't feel like a debut novel, and I love the life and character she lets Sesame Seade bring to the written page.
Written by Michelle of Honest & Truly! who is grateful that her children have no desire to become sleuths on skates. See what they're up to instead on her blog Honest & Truly! and follow along with her on Twitter where she is also @HonestAndTruly.