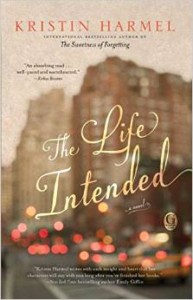 The Life Intended by Kristin Harmel is a novel of what might have been.
Kate and Dan are in a relationship, and it's getting serious. He's nice, almost perfect. He's good-looking, gets along with Kate's friends, and nothing seems to ruffle him. If all that's true, then why does she feel something is missing? When she finds out that she can't have children, she discovers that he always assumed they wouldn't because they were fortysomethings. She had never thought about it either way, but the definitive answer makes her sad about what might have been. Does that mean things should be over with Dan?
She finds herself thinking more and more about the life that she was intended to live. Ten years ago her husband Patrick was killed. She begins having realistic dreams about what her life would have been life had he lived. She knows that his death impacted her and changed the course of her life, but she doesn't know how much she misses what might have been until she lives in that world in her dreams. She finds herself more invested in that life than her current life, making choices like taking an American Sign Language class to communicate with a hearing-impaired daughter who is in her dreams.
It was unclear if the world was really a dream world or if it is somehow real, something she can have. Regardless of whether or not she could have that life, it begins to affect her present real life. While I was thinking about Kate's life, it also made me think about some of my choices and how they've changed my life, for the better or for the worse.
I enjoyed this book a lot. It was the type of light women's fiction that I didn't want to put down, because I was intrigued, entertained and drawn in by the characters.
Keep up with us at 5 Minutes for Books
Check out our current giveaways. Subscribe to our feed. Follow us @5M4B on Twitter or on Facebook.
Enter to win
Gallery Books have offered up giveaway copies of The Life Intended as well as her earlier novel The Sweetness of Forgetting. Follow the instructions below to enter to win.