As I type this, it's late in the evening of December 14th, and my husband and I just said to each other, "We really should start Christmas shopping." This is par for the course for us. What about you? Do you comfortably do some shopping in the week before Christmas, or do you start in July and finish by November? Regardless of when you begin shopping, books are always great gifts for the people in your life. I personally think all families should have their own copies of the classics, and most do, but often they are old tattered copies from the parents' childhoods (true confession: our family tends to be like this). Oxford is continuing to republish children's classics in fun, bright new editions, and this is a lovely way to add to your own family's library or to buy a present for a child in your life.
I'm presenting 4 recently reintroduced books, ones that I'm sure you read and enjoyed as a child, but that could stand a reread, especially if you're reading aloud with a young friend. Writing this review has put me in the mood to read them all again, curled up on a couch and pretending I'm 11 again. Be right back. In the meantime, I highly recommend them all–either for Christmas presents, or really just for you, all over again.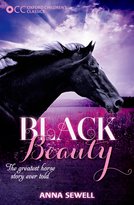 Black Beauty
This book is SO. SAD. I  am not going to tell you what happens just in case you've forgotten,  but Black Beauty goes through some Very Rough Times. Don't worry though–all is okay at the end. This book introduces ideas of social justice and kindness to animals, through a well-told tale that takes one into the world of horses in the late 19th century. Many little girls go through a horse phase, and I was no exception, and I remember loving this book. This version has a glossary, which helpfully explains some words no longer in use, and a section of facts on the author. Did you know that Black Beauty was distributed by animal rights activists and helped change people's attitudes towards horses? There are also recommendations for other books, all presented through fun quizzes and interactive games.
First of all, don't you love this new cover? I realize that we don't judge the book by it, blah blah blah, but I must admit that covers attract or repel me. That said, this is such a fun book no matter its outward appearance. I think I'm going to have to reread it. I remember how very sensual a book this is, how it makes you love the outdoors in all seasons and weather. I loved sensible Mole and Ratty, the wise and kind Badger, and the crazy Toad and his madcap adventures, who never learns from his mistakes. I remember giggling helplessly at Toad's antics. What about you? This edition includes some thoughtful questions to deepen the reading experience, as well as short reviews of other classics.
Who didn't love these stories as a child? Who didn't scheme ways to be this resourceful and cheeky? I personally wracked my brains to try to come up with my own version of the fence-painting scene, and I longed to escape down a river on a raft. (I once took an inner tube down a creek, but I had a most uneventful childhood overall) This is a great adventure story, full of fun and mischief and humour, but again touching on the real issues of the time, which also reflect our own. This is another book with a gorgeous cover, with the lettering formed of tree branches that line the river, and this edition includes a short interview with the illustrator. I love this, as I think it gives kids ideas for the future–I could illustrate books I enjoy! And of course there's also recommendations for other books, fun quizzes, a glossary (called "Weird and Wonderful Words"), and reading questions.
I loved this book so much when I was a child, and I still love it now, even though it's been several years since I last read it. (My daughter is now 17 but we read it together when she was younger.) The story of grumpy, unlovable Mary Lennox and how she is transformed into a happy, healthy child who helps her cousin through love and friendship, good food, and outdoor play is one that resonates through to a very different time period, our own. And who doesn't thrill at the hidden, secret garden, and Mary's discovery of first a door, then a key, then of growing things and how to help them thrive. This edition includes a quiz, recommendations for other books, an explanation of all those weird Yorkshire words (wish the version I'd had as a kid had had that!), and more. It's a lovely book.