I'd be willing to wager that most of you are familiar with David Baldacci's work as a best-selling fiction author. Even if you haven't read one of his legal thrillers, it's likely that someone in your family has, or you've at least seen his books featured in airport bookstores, grocery stores or on the bestseller list. I was thrilled to be able to participate in a group conference call interview with him last week.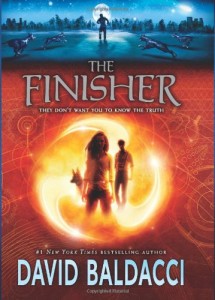 This year he published two books The Finisher for older middle grade readers and young adults, and The Escape, a John Puller novel. I was curious about the switch, not only in genre but in the target age group.
Baldacci spoke passionately about this new direction:
I've always felt that a writer, if you don't stretch, you sort of wither on the vine. So, for me, it was a challenge to get out of my comfort zone and write in a genre and in a way that I'd never written about before. It was just a new direction for me. But, unlike most other occupations where you get really good at something because you do it over and over again and work all the errors out of it, as a writer, you get better when you do something different. I get to use my imagination.
I'm prolific because I'm just a kid. I'm a seven-year-old boy looking at a blank piece of paper, exercising my imagination. And that's really what I do. And I call it a job, but it's really not.
The Finisher is hard fantasy, not just some sort of magical or fantastical or futuristic elements within the context of an otherwise realistic world. There are new words, jargon, history. So we asked how that process was for him:
It took me five years to do this book, and four and a half years was sort of banging my head against the wall and trying to get the story and the characters and everything right so I could really sit down and write this book the way I wanted to write it.
I wrote the name down, Vega Jane, and I knew she was going to be the lead character, but I didn't know what she was going to be doing. And it took me over four years to finally figure out the world that I wanted to place her in, what her role would be in that, and what the total story, plot, and narrative would be and what the other characters around her would be like. I knew that I wanted to create an entirely new world. I didn't want to just place an individual in the world as we know it now. So, when you build a world like that, it takes a lot of time and effort and thinking. And I had to put a lot of research into that, because in The Finisher a lot of the terms and references come from mythology, classical works of fantasy, religion. I wanted to build this world in a smart way. I didn't want to start naming stuff for the habit of naming something.
In putting the whole world together, I tried to do it as meticulously and carefully as I could. And what I did was, I didn't create a huge world and address is superficially. I built a very small world, a village and a Quag around it, and that was it with a limited number of characters. But, I gave great depth to everything that I wrote about.
David Baldacci knows that he is a writer, because when he was a kid, he was a reader — a "library rat," as he called himself. He loved reading fantasy, when he was growing up and then later with his kids as they grew up. Please click over to my companion piece at 5 Minutes for Mom and read about the books David Baldacci enjoyed reading as a child and books he read with his children.
Check out our current giveaways. Subscribe to our feed. Follow us @5M4B on Twitter or on Facebook.