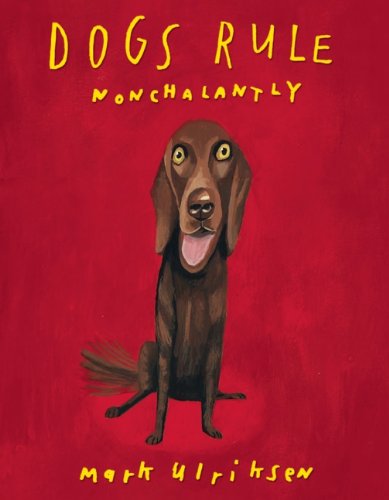 Do you have any dog lovers in your family? Maybe art lovers? I was interested in checking out this book, because we are all dog lovers in our family and because my teen daughter is an art enthusiast, I knew that we'd enjoy Dogs Rule Nonchalantly. The tone of the book is definitely one that those who think of dogs more as friends or family members than messy fur balls (okay, I feel that way about mine sometimes, while still seeing her as the above). One of the lines described a former dog of mine pretty well "of course they need lots of exercise, and some can use a little therapy too." And this line reminded me of my current dog:
We also learned that a properly trained dog will do whatever you ask and never complain.

Of course few dogs are truly proper.
Author and artist Mark Ulriksen shows his range with the text and variety of art. It all has a similar style, but varies widely in subject and tone, from whimsical to realistic to surreal. Art aficionados will appreciate the index in back that shows each piece and tells where it originally appeared (Ulkriksen is regular featured in the New Yorker, Atlantic Monthly and the like) and the type of medium.
Especially at this time of year when we are often looking for unique gifts for those whom are hard to buy or fun hostess gift, this type of book is a great sell. Dogs Rule Nonchalantly is a fun book, a good size (not too big, not too small), and unique.