I have a thing for board books, and I like that it's more common to see a large-format board book (not just the chunky toddler ones). Board books are great for durable reading — especially for independent play and reading time — for kids up through school age.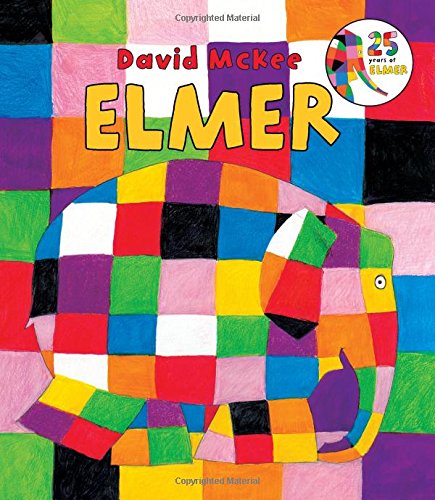 This is a 26th anniversary board book edition of Elmer. I vaguely remembered the story of the patchwork elephant, but he was never one of my kids' favorites, because it wasn't a book we owned. However, the story holds up so nicely. It's a little bit silly, because of course he's a completely imaginative and different-looking elephant, but the theme of fitting in and being yourself is so current. I love how when Elmer tries to fit in with the other gray elephants, they turn it around and change themselves to honor his individuality.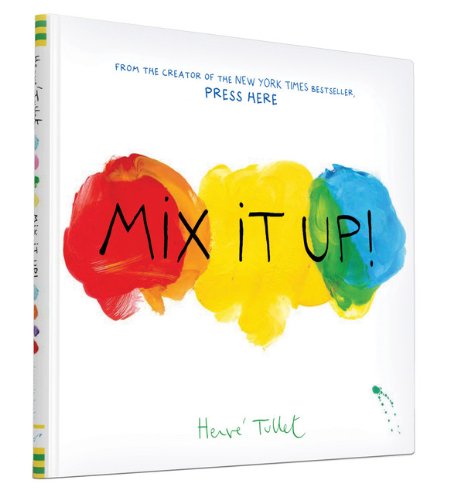 Press Here is a new classic. When Dawn reviewed it when it came out a few years ago, she gave it 5 Stars. When an unsolicited copy of Mix It Up! appeared on my doorstep, I was happy to check it out. This book has a board book cover, but the pages are just regular pages (maybe slightly sturdier).
In this hands-on book by Herve Tullet, kids learn color theory by doing. They mix red and yellow on one page, and turn the page and see orange. They slam the book closed on a black square and a white square and see two gray squares. It's a fun way to encourage interactivity while reading, and I also think that kids would be encouraged to experiment on their own the next time they are coloring, painting or playing with clay.