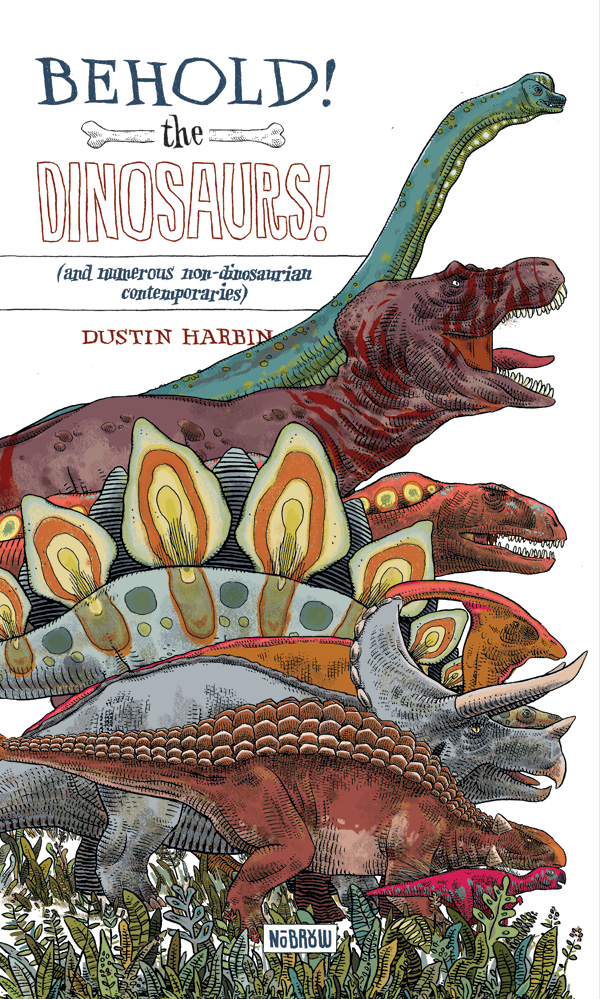 Dinosaurs can be awfully fascinating to some children, and books and toys featuring the ancient creatures range from straightforwardly informational to outright silly. A new (sort-of) book by Dustin Harbin, Behold! The Dinosaurs!, presents over 100 dinosaurs and other prehistoric creatures from the Devonian to the Cretaceous periods in eye-popping drawings.
Did you catch how I called it a "sort-of" book? Well, I have to admit that I learned something new when I received this publication in the mail and I saw it referred to as both a leporello and concertina, and I was compelled to look up the terms before I opened the book. All I would have had to do was open the cover and see the fold-out pages, which measure more than six feet on each side!
Above each prehistoric creature an informational box is printed with its name, approximate size, description, geologic period, and area of the world in which it lived. Land, sea, and flying creatures are included in illustrations with awesome details.
Perused as an informational book, or hung on a wall for display, Behold! The Dinosaurs! is perfect for young dinosaur enthusiasts or would look fabulous in a classroom setting.