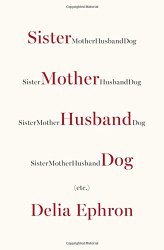 Delia Ephron and her sister Nora are well-known in America, mostly for such movies as Sleepless in Seattle and You've Got Mail. This collection of essays by Delia was my introduction to her as a writer and as a person. Sister Mother Husband Dog: Etc.
is a collection of personal essays on a wide range of topics, from an extremely poignant one dealing with Nora's death, to humourous ones on how she lost her 20s to an idealism sprung from over-watching Seven Brides for Seven Brothers. She talks about her dog, Honey, her family, growing up as the  child of alcoholic parents, the importance of friends, and more, ranging in topic from the weighty to the light and frothy.
Ephron is an excellent writer, and can skillfully turn a phrase to catch the thing exactly. Writing about how she deals with the loss of her elder sister with whom she was extremely close, a woman who was larger than life, she writes, "I thought she left me enough guidance for several lives, but today I ate a kale salad. Kale is everywhere. And panko. What did she think of kale and panko?"(p 20-21) In an essay reflecting on the idea of "having it all" and what that means for today's women, she says, "Never underestimate the power of high school."(p 149)  And in one essay titled #TheHairReport she notes, "I don't care about the weather. I care only what the weather is going to do to my hair." (p 111) (Me too, Delia)
She tells us the joys and pains of screenwriting. She talks about the frustrations that belie the apparent ease of internet shopping. She describes her various collaborations with Nora, and she presents Nora as a real sister–infuriating and smug and half of her heart and all the mix of emotions and realities that make up real relationships.
Ephron's essays don't reach conclusions. One thing I appreciated about her more poignant writings (on her mother's alcoholism and emotional distance; on her sister's life and death) was the honest tone, full of pain and even surprise somehow, that life should be this way. There aren't polished conclusions or answers. Rather, Ephron allows us in to her thought processes and her emotional life. My favorite might well be the one titled "Why I Can't Write About my Mother," which deals with the confusion left behind by Ephron's successful, charismatic and alcoholic mother.
Sister Mother Husband Dog: Etc.
presents a complex woman in a variety of situations, from grief to joy, from work to marriage, from dreading photo shoots to writing about her favorite bakeries in New York. She's someone you can easily relate to, and even understand.