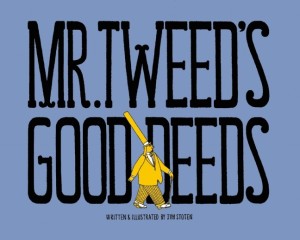 Mr. Tweed is a smartly dressed dog who is heading out for his daily walk. With his dapper suit jacket, striped trousers, walking stick, and extremely tall stovepipe hat, he looks like quite the character. Soon, he reveals himself as a kind friend as he bumps into neighbor after neighbor in need of assistance. Mr. Tweed's Good Deeds by Jim Stoten tells the story of this helpful dog, in a picture book that is part narrative, part counting book, and part 'look-and-find' activity book.
Each friend that Mr. Tweed assists is looking for an increasing number of items or creatures- one kite, two kittens, three mice, in that type of pattern. After the missing object is declared, readers are invited to search for them on the following two-page spread that is void of words, but absolutely full of wacky and whimsical illustrations. The town in which Mr. Tweed resides is comprised of a diverse community of anthropomorphic animals living side by side with humans, adding to the whimsy of the book as a whole. The pages on which the objects must be found are busy with interesting illustrations that will likely elicit many "look at that!" exclamations from young children.
Mr. Tweed verbalizes his growing positive feelings about helping others as the book progresses, and in the end, his community recognizes his kindness in a lovely way. Combining a story line with the 'look-and-find' aspect makes for an interactive reading experience between adults and pre-reader children. As far as the illustrations, they're certainly not what you typically see in picture books, and I can't help but describe them as similar to the Beatles' Yellow Submarine style– a bit psychedelic with splashes of a wide variety of colors.
I like that this book stands out among picture books with its individualistic style, and many children love the appeal of searching for hidden illustrations. Mr. Tweed's Good Deeds provides a fun reading experience with a unique visual appeal.