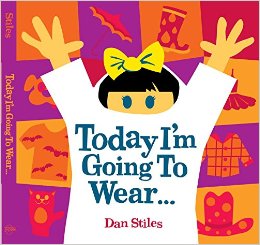 Asking a toddler what he or she wants to wear can be the beginning of a seemingly endless process. I remember my own kids having their favorite articles of clothing and sometimes switching allegiances at the drop of a hat (pun fully intended). A new brightly colored board book by Dan Stiles, Today I'm Going to Wear…, depicts the experience of one very enthusiastic young girl choosing her clothing and accessories, and you can imagine that she shows her creativity in the process.
Though it starts out simply enough with one little yellow bow, soon the girl is mixing and matching and accessorizing with glee and complete disregard for complementary colors or styles. Yes, she is a toddler, so this will come as no surprise to parents reading this with their little ones. The little ones, however, may giggle with delight at the silliness.
Boldly colored illustrations feature fun shapes and an adorable young character. Toddlers need board books that will catch their eye and hold their short attention spans, and this one fits the bill.