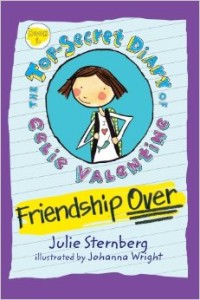 Julie Sternberg, author of Like Pickle Juice on a Cookie and its two sequels (linked to my reviews), writes books for the younger middle grade readers, with shorter chapters and expressive characters who represent the 8-10 year old age extremely well. My own third grade daughter was thrilled when I told her that Sternberg has started a new series. The first book, The Top-Secret Diary of Celie Valentine: Friendship Over introduces another lovable young girl trying to work through a highly-relatable experience.
Friendship in childhood can be filled with ups and downs, and ten-year-old Celie is currently low down because her (former) best friend Lula suddenly stopped speaking to her. No explanation, no reason that Celie can think of. Having to see her every day at school but not being able to chat with her at recess or pass notes during class is leaving Celie feeling alone, especially when Lula refused to come over for Celie's birthday celebration! When their teacher begins to notice the effects of their estrangement, she recommends they go to a guidance-sponsored "friendship fix" program, and Celie's parents tell her she must attend. Now she's hurt, angry, and embarrassed!
At the same time, Celie's grandmother begins to act strangely. Though she lives far away, she and Celie have a strong relationship and love to send each other art they've created and special gifts. Celie begins to understand that there is a serious problem when her mother goes to stay with her grandmother for a couple weeks to help with doctor appointments and take care of her. Worrying about her grandmother and not having a best friend to talk with is a double hit!
The format of the book is as the title suggests- "top-secret" diary entries that burst with the earnestness of a ten-year-old. Her feelings are on full display here, and her expressions sound pitch-perfect. As in her previous books, Sternberg has created a loving family that still manages to sound realistic, with parents who set boundaries but do so with heart.
I feel fortunate that my daughter has been reading Sternberg's books for the last couple years, because they've been perfectly suited to her age and developmental level. This series seems to be slightly more complex in delivery than her first book, which is fitting as Celie is slightly older than Eleanor from her first series. As in those books, there are some lessons to be learned here about friendship and family relationships, but they aren't overtly emphasized, just subtly woven into the narrative and the experiences of the characters. For readers in the earlier stages of middle grade fiction reading, this new series will hit the right spot.