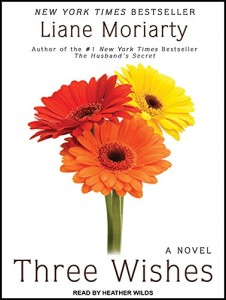 I've been hearing a lot of Liane Moriarty lately, and as audiobook publishers tend to do, when an author takes off, they sometimes release backlist titles on audio for the first time (It's also available on kindle for under $3 at the time of this writing). Three Wishes was first released over 10 years ago. It doesn't feel at all dated, but I would wager that Moriarty's work has gotten even stronger.
I always love a good family novel, so the idea of a story centered around three adult triplets intrigued me. Cat, Lyn, and Gemma Kettle are different, if not in appearance, than in temperament and lifestyle. Lyn and Cat are identical blondes, and Gemma is a red-headed version of the sisters. Their mother has made a career of being the mother of triplets, writing a book and doing speaking engagements and parenting groups. The sisters have always been somewhat of a spectacle, as is the case with multiples. This unique element of being a triplet is conveyed in the novel by interspersed vignettes from outsiders who encounter the triplets.
The way their choices intersect and overlap are so interesting, from extra-marital affairs seen from different angles, the idea of what "success" and happiness is, and their views on each other make for an easy yet thought-provoking read. Even at 33, they are still affected by their parents' choices and the opinions of their sisters, though one of the developments of the characters is a burgeoning independence.
The novel looks back at different events in the girls' lives, and reading them I was reminded of all those different stages I've gone through as well. One's thirties can be such a defining time, and each of the sisters are working through specific issues with which most readers will relate: career, infertility, step-parenting of a teenager and parenting of a toddler, marriage troubles, relationship successes.
This novel deals with serious subjects, but also had lots of humor, mostly looking at the extremes of personality that the Kettle women (the triplets, plus their mother and grandmother) embody.
NOTES ON THE AUDIOBOOK:
The reader Heather Wilds did a great job distinguishing between the sisters, even though I was having a hard time remembering who was the flighty one, who was the uptigt one, and who was the one trying to get pregnant. It was definitely an easy and enjoyable listen. However, the sisters are Australian and Wilds is British. One of the things that makes an audiobook great — especially those set abroad — is being reminded of the locale by the reader's voice. This seemed like a great oversight in the production of this audiobook.
You can listen to a sample at the Tantor Audio page.