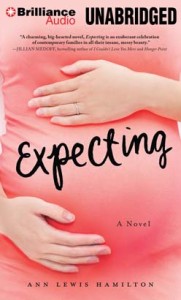 Expecting is a novel by Ann Lewis Hamilton that is about exactly what you would think given the title and the cover art, sort of….
Laurie and Alan have been trying to have a baby, but it's not been as easy as they had hoped it would be. After a couple of failed attempts – devastating miscarriages — their doctor recommends in vitro.
I don't want to spoil the plot twist (I wouldn't read the plot description, because for some reason I was able to escape it and was surprised in a great way), but soon Laurie and Alan have to confront some issues about what a true parent is.
The novel opens with Laurie rushing to the hospital with her college boarder behind the wheel, trying to reach her husband by phone. Then it flashes back in time. I enjoyed this set up, knowing that Laurie does carry a pregnancy to term. It was perfectly fitting to begin the novel with that rush of adrenaline and confusion and action that happens at that moment we are expecting for nine months but yet still takes us by surprise.
I think I might have appreciated this novel more 15 or 20 years ago when these issues of conception and gestation were more on my mind. I did enjoy it, and more than the whole getting pregnant process, I was drawn in by the look at a marriage and the role of friendship and extended family, especially when times get tough.
The novel is told in alternating chapters from the point of view of Laurie, Alan, and Jack (the college student). Jack was a compelling character, probably the most interesting of the three, but again, I felt twenty years too old to fully appreciate his college thinking. His sections almost read like a New Adult novel.
There is a reading guide, and I do think this would be a good novel to discuss, especially for people in their early twenties and thirties.
NOTES ON THE AUDIOBOOK
Reader Tanya Eby did a good job of keeping the story moving and voicing the emotions and thoughts of the different characters. You can hear a sample on the Brilliance audio page.
At this writing, the MP3-CD is under $6 at at amazon, so if you enjoy audiobooks, you might want to take advantage of this bargain price!