When I was younger, I had a great-uncle who was a Merchant Marine. When he grew too old to care for himself, he lived in a nursing home for sailors on the coast of North Carolina. I fondly remember visiting him there, and have some not-so-fond memories of my history-buff mother dragging us to the historical sights in the area, including towns like Beaufort and New Bern. The Story of Land and Sea takes place in those same towns around the time of the Revolutionary War, and fortunately I enjoyed it a great deal more than my childhood sight-seeing.
John is happy with his life with his daughter Tabitha, though he misses his wife, Helen, who died giving birth to Tab. John's only other family is Helen's father, Asa, and the two men have their differences, as Asa resents John for stealing Helen away from him and John is still angry over Asa's removal of Helen's body after her death, yet they share a bond of their love for Tab. But when the little girl falls ill, John takes her to the sea, which he feels is the only place she will heal.
22 years earlier, Helen is given a slave, Moll, for her 10th birthday. Their relationship is unusual, one more of friendship than owner and slave, though it's clear at least to Moll that she is still a slave. As they grow older, they grow apart, as Helen lives her life of privilege and Moll is married off to a slave on a nearby farm. Asa tries to find a husband for her among the soldiers in the Continental Army who are stationed nearby, but she falls for John, a former pirate, and their courtship is one of secret meetings and chaste touches.
The Story of Land and Sea is broken up into 3 distinct sections – John caring for Tabitha, Helen as a young girl, and John and Asa in the aftermath of Tabitha's illness. It is a quiet and moving story of love for a child, losing a beloved spouse, and learning to move on. The 18th century setting, with its backdrop of slavery and the end of the war, add to the story's appeal.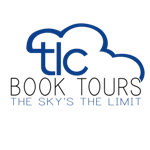 TLC Book Tours provided us with the review copy, and asked us to share the following video, where author Katy Simpson Smith gives her own summary of the story and discusses the inspiration for the novel. Check out all the stops on the tour to hear other book bloggers' opinions of the book.