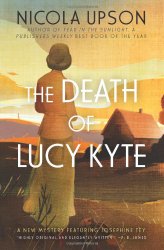 Josephine Tey, mystery author and playwright, was a real person–the pseudonym of Elizabeth MacKintosh (1896-1952). She's probably best known for the novel Daughter of Time, which uses fiction to look again at the supposed crimes of King Richard III, and which ends up being a fascinating treatise on how history is written and interpreted by the following generations, who put their own spin on it. She wrote several Inspector Grant novels, and I've read quite a few of them, and enjoyed them immensely.
However, Nicola Upson has also made Josephine a fictional character. She has taken the outlines known of her very private life–her childhood in Inverness, Scotland; the death of her mother which necessitated her return to the small village to care for her father; her various pseudonyms–and filled in, plumped out the edges, and added in all sorts of details, making her an unlikely detective in real life. I know little enough of the real Josephine Tey for this to bother me except in the abstract, where I find myself wondering how much I would appreciate it should someone do this to me. (I wouldn't. And don't worry–I know no one will. But still.)
However, on to the book. The Death of Lucy Kyte
is a great read. It's the 5th of the Josephine Tey series (as I suppose we must call them), and I might as well be honest–I'm going to be picking up the first 4. Nicola Upson returns us to what's often called the Golden Age of British mystery novels, and since many of my favorite authors were working in that time period (Agatha Christie, Dorothy Sayers, Josephine Tey herself, Margery Allingham, Ngaio Marsh), I'm delighted to have a chance to visit that time period again, and Upson does an excellent job at recreating the atmosphere of the times.
Josephine inherits a cottage from her godmother, the actress Hester Larkspur, whom she never really knew and met only a few times, but who was a close girlhood friend of Josphine's mother. The will is very precise–Josephine must take possession of the cottage herself and go through its contents, or the entire thing is to be burned. Another codicil adds that Lucy Kyte can take "whatever she most needs" from the cottage in the hope that it will help her find peace. Mystified, Josephine makes the trip from Scotland to Suffolk, where she finds a village that greets all outsiders with rank suspicion, and a cottage that testifies to a old woman's lack of peace at the end.
Hester Larkspur was best-known for playing the character of Maria Marten, a young woman who was murdered by her lover and the father of her young child when she and her family put pressure on him to marry her. He buried her body in his family's barn, and made it nearly a year before being discovered, after Maria's ghost supposedly appeared to her stepmother in a dream and told her the truth. The story was a huge sensation, sparking books, plays, and later a film. Such was Hester's interest in it that she bought the cottage nearest to the barn and did as much research as possible into Maria Marten's life.
Josephine finds the cottage both appealing and off-putting at the same time. She relishes it as a peaceful retreat, but there's something dark in the atmosphere. Certain valuable items seem to be missing, and as she learns more of her godmother's final days, her unease grows. She begins to investigate. And what of the mysterious Lucy Kyte? As near as Josephine can tell, she was a contemporary of the murder victim, but what happened to her is shrouded by the past, and Josephine isn't sure whether she's on the right track or not. One thing becomes apparent: Josephine will need to use all her wits to figure out what happened, and to stop any further mayhem.
The Death of Lucy Kyte
is rich in atmosphere, historic detail (the events take place in 1934 and 1827), and realistic characters who manage to be quirky and believable at the same time. It's kind of a ghost story too. It's very well written and I thoroughly enjoyed almost all of it. And like I said, I'll be looking for the previous Josephine Tey novels, even if I am still struggling with this a bit. (If you're interested, read Nicola Upson's thoughts on turning fact into fiction here.)
Click on the TLC Logo below to read more about the tour.