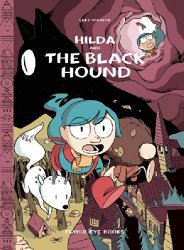 Earlier this year, I was introduced to the Hildafolk series by Luke Pearson. My review of Hilda and the Troll emphasized my adoration of this spunky young character and the adventurous tone of the story in this complex comic book. What I didn't realize was that the series had continued with three additional books! Hilda and the Black Hound is the latest, and this fourth in the series has Hilda facing another adventure, of course, with just the amount of pluck and heart readers have come to expect from her.
Since the first book in the series, Hilda and her mother have moved away from the Fjords and into the small city of Trolberg. It's clear that Hilda still misses the wide expanse of the natural world, and the opening page demonstrates both these feelings and her vivid imagination. In this story, Hilda gets the opportunity to reconnect with the outdoors through her participation in the Sparrow Scouts. With a focus on being a good friend to "all people, animals and spirits," this group seems tailor-made for Hilda!
Just as Hilda gets ready to start earning some badges, her attention gets sidetracked by two seemingly unrelated phenomena. First, sightings of a larger-than-life black hound around the city are making people increasingly concerned. Around that time, Hilda also learns about the Nisse, house spirits that usually reside invisibly inside people's homes. Her mother explains their existence after Hilda notices one sitting on the sidewalk, and though she feels compassionate for his plight after being kicked out of his house, her mother insists that they are nothing but trouble, and she should not feel bad for him.
If you know Hilda, though, you know that's not the end of the story for her. In her efforts to assist the Nisse she saw on the street, she soon becomes entangled in a bigger mystery that takes up all her badge-earning time, but helps to finally put the city's residents at ease. By the end of this delightful 64-page hardcover comic book, not only does Hilda display the depth of her courageousness and empathy, but she entertains as well with her offbeat sense of humor. This fourth installment in the Hildafolk series has been as big a hit with my children (6, 8, and 13) as the first book.
Find more middle grade book recommendations at Shannon Messenger's Marvelous Middle Grade Monday roundup.
Check out our current giveaways. Subscribe to our feed. Follow us @5M4B on Twitter or on Facebook.