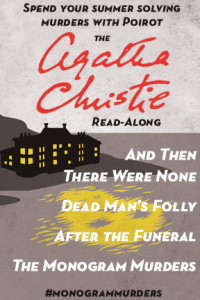 I don't know about you, but I first fell in love with mysteries with the stories of Agatha Christie, and I suspect I'm not alone. When I was in junior high, I began raiding my mother's bookshelves of her Christie books, along with other favs like James Herriot and P.G. Wodehouse. And while I don't often read Christie anymore, she retains a soft spot in my heart.
This September, a new Hercule Poirot mystery is arriving, written by Sophie Hannah, a current favorite of mine. (I'm working my way through her entire oeuvre at the moment, each one more delightfully creepy than the last.) I'm excited to read it, although it will be interesting to see how she manages to re-create another author's characters.
Book Club Girl is celebrating both this latest addition to Poirot's mental exploits and the 75th anniversary of his first book with a Christie read-along this summer. I'm going to participate, and I'd love to have you join me. Wouldn't it be fun? Picture yourself, at a park or in your backyard, relaxing with a nice crisp mystery (as Wodehouse puts it).
The following details and instructions are from Book Club Girl's website. Click on the link to officially sign up. If you do, please let me know in comments below. It'll be fun to be in a virtual book club together.
The Agatha Christie read-along begins with a discussion of And Then There Were None
, tied to the 75th anniversary of the world's best-selling mystery with more than 100 million copies sold!
The read-along will officially kick off June 30th and run through the publication of The Monogram Murders this Fall (9/9).
Here's a schedule of when I'll post questions to discuss for each of the books:
Later in October we'll announce Sophie's live Book Club Girl on Air chat!
How to sign-up? Write a post saying you're signing up, grab the image above to post to your site and then paste a link to your post in the comments section below. Then tweet about your reading Agatha Christie all summer using #monogrammurders.