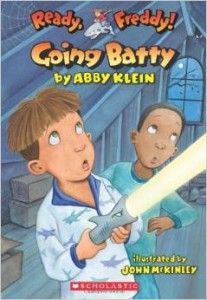 The wee ones love the Ready, Freddy! books. It's one of the first chapter book series that they started reading, and they felt like such big kids, along with Freddy and his first grade friends. In Ready, Freddy! Going Batty by Abby Klein, Freddy is once again being challenged by the classroom "bully" Max.
Freddy has been hearing scraping noises in his attic, which has been keeping him awake at night. As he talks about the monster upstairs on the bus, Max overhears and challenges Freddy to get a picture of the monster that weekend, or else he's chicken. Of course Freddy can't back down, but luckily he has his best friend Robbie who volunteers to spend the night and help Freddy track down the monster.
Conveniently, their teacher just that day chooses to teach them about bats in preparation for Halloween. Any guesses as to what's in the attic?
The book is easy to read, as all the Ready, Freddy! books are. They have short chapters, and the language isn't too challenging so that they are appealing to younger readers. There are fun illustrations on many pages that keep it from being too text heavy, making it another fun read. It is less than 100 pages, making it a nice step into longer chapter books for new readers.
As a parent, I like how Ready, Freddy! Going Batty incorporates not just fun reading for kids but also educational information, too. When their teacher is teaching about bats, Freddy, Robbie, Max, and the rest of their class spout facts and have the teacher engage them in a conversation about bats so that the reader is also learning about bats while having fun reading. The end of the book also includes various bat activities for kids, as well as more facts about bats, presented in a fun way.
Though this book is beyond the wee ones' reading level, they still love reading it because the book is silly and fun. It may not be what they pick up every day, but anything that encourages them – and others – to read more while providing good messages is one that I'm happy to put into our home library.
Written by Michelle who is grateful to never have found bats in her own attic (yet). There are plenty of other mysteries in life, however, and she shares many of them on her blog Honest & Truly! as well as on Twitter where she is also @HonestAndTruly.