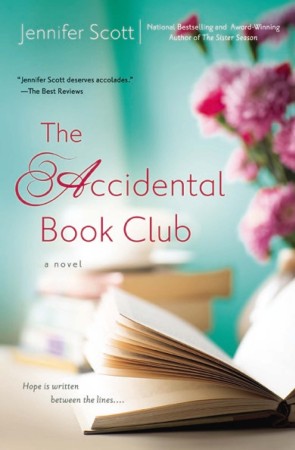 This is another great book by Jennifer Scott. I haven't read any of her YA (written as Jennifer Brown), but in both this book, and the Sister Season (linked to my review), there is a teen character who shines, so I'm sure her YA novels are great as well.
The Accidental Book Club is Jean's story. She's an empty-nester, and after her husband dies, she's totally alone. Her neighbor and best friend Loretta is a fellow booklover (though she prefers trashy romance to literary fiction or the latest bestseller) and suggests that she spearhead a bookclub.
At first I thought that this would be the kind of book that changed POV in each chapter so we could get to know each character, but I'm glad that it stuck with Jean. We see her heal and come to terms with her new reality and reach out to others, being the glue that holds them together.
We do get to know the other characters through Jean. There's
shy overweight Janet, who opens up to Jean when she sees her outside of bookclub
Dorothy, a single mom struggling with her rebellious teenage sons
May, who brings the best desserts, and is single
Mitzi is the one who rants and others sort of fear her judgment
Loretta provides comic relief, but she also opens up about problems with her newly-retired husband
And then we meet Bailey. Jean gets a call from her son-in-law that her daughter has been in a drinking-related accident. All of this is news to Jean, but Laura has stayed distant from her mother, so she's not totally surprised that her life isn't going as well as the perfection that she's always tried to maintain. Her daughter Bailey is the one that has suffered. She loves to read, holding on to comfortable books such as Anne of Green Gables, which is a stark contrast the angry persona that she puts out to the world.
Bailey comes to stay with Jean and shakes up the bookclub — and Jean's life — in a way that benefits all of them.
This was a perfect summer read, both light and emotionally satisfying. Jennifer Scott is 2 for 2 with me, so I can't wait to read her next book or to go back and look at some of Jennifer Brown's YA novels.