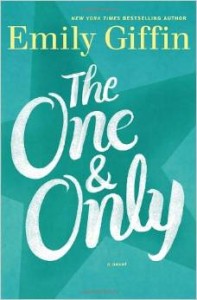 I've enjoyed books by Emily Griffin previously. They're great chick lit, with strong characters who you relate to and grow to love and respect. In The One and Only, Giffin creates a different dynamic, and the resulting book is much tougher to read – and to like. While it's a fascinating look into the psyche of moral choices, they aren't necessarily ones that I would make or endorse, which meant I didn't enjoy this book nearly as much as I had expected to.
Shea loves football, specifically Walker University's college football team. She grew up the best friend of Walker's legendary coach and her current job is in the sports information department. When Coach's wife dies, many lives are thrown for a loop. Lucy, Shea's best friend realizes that her relationship with her father required her mother as a go-between, as they don't have much in common. Shea herself isn't sure where she fits in either. While she's still Lucy's best friend, she's finding that she relates to Coach differently.
The problem I have with Shea is that there isn't much to her beyond football. She loves Walker football because she grew up with it, but she doesn't seem to have much interest beyond that. She seems to have no ambition, just a desire to stay in a town where she's comfortable and things are easy. Her job in the sports information department isn't focused on the football team, as she might want, but it's good enough for her. Beyond that? We really never learn what makes her tick.
She breaks up with her boyfriend Miller, who is a former Walker football player. She's asked out by Ryan James, another Walker alum who is the only quarterback who can "out-Brady Tom Brady." Their relationship moves quickly, though he appears to be more into Shea than she is into him. For someone who adores football, it seems odd that she never makes it to a Cowboys game to see him play.
Coach encourages Shea to apply to a job with The Dallas Post, just like he encourages her to break up with Miller. That's the only reason she ever gets a job outside Walker football, although ironically she is assigned to the beat covering Walker. And more Walker football becomes the focus of the book.
I am a football fan. I have season tickets to my college's football. I can follow a diagrammed play, but even I was waiting for something outside football to drive the book forward. There just isn't much to it beyond that, and much of the book's decision-making crux made me uncomfortable. As in this is so wrong and please just don't go there kind of wrong.
This isn't one of the books that I just couldn't finish, but I didn't enjoy it nearly so much as I've enjoyed other of Giffin's work. The characters didn't have the same depth and relatability, and for that reason alone, this isn't a book I'll reread. But if you can get past the relationship confusion between Shea and Coach better than I was able to, this may be a great book to pick up. I can see this book being polarizing, and unfortunately, I got stuck on a few points.
Written by Michelle who can honestly say that she has never had a crush on a friend's father. Her life is far more traditional, and she shares it on her blog Honest & Truly! and you can also follow along with her on Twitter @HonestAndTruly.