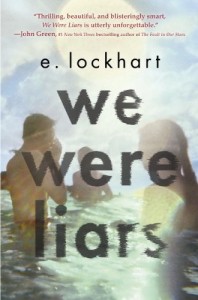 The note from the publisher at the beginning of the egalley of e. lockhart's We Were Liars warns readers to enjoy the book but not to find out anything about this book. I honestly try to approach most books that way. I avoid reviews and I don't even re-read the jacket copy when I finally get around to reading a book that has been sitting on my shelf. I promise this review won't contain any nods to plot elements you don't need to know, and I'd suggest you avoid spoilers so that you can enjoy this book as it's intended as well.
I wanted to love this book. It seemed intriguing. It was well-written and clever. I might be teetering on YA overload, which happens on occasion when I read a lot of the genre in a period of time, but I don't think that's it. The kids — 17 year old teenagers, the cousins who have grown up spending each summer together — are precocious and pretentious in the way that bright 17-year-olds tend to be.
The "privileged" families have let money and jealous tear them apart. The adult sisters are fighting over the houses on the private island where they spend the summers. They're fighting over money and attention. They try to use their kids to get into the good graces of their father, who is slowing losing his mind to old age.
But this novel is really Cady's story. Something happened in summer 15. She doesn't really remember most of it, and no one will talk to her about it. There was an accident and she's left with debilitating headaches. Her mother kept her away during summer 16, and so now she's back in summer 17, and she's determined to figure it all out.
As she pieces memories together and uncovers new ones, she takes the readers along with her.
This is a story about family and friendship and first loves. It's about squeezing every drop out of youth while facing the truth that everyone has to grow up.
I did want to love it, and I guess I liked it well enough, but  think what prevented me from crossing over to full enjoyment is that it's just a sad story. My response to Cady's injuries and her loss, and the sad state of affairs of the grown-ups speaks to the quality of Lockhart's writing.