Relativity Media sent me on an expenses-paid trip to New Orleans where I met with cast and crew and author/producer Nicholas Sparks on set of the new The Best of Me movie.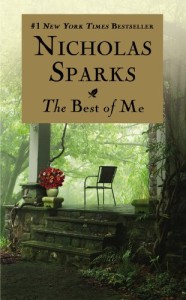 I would not say I'm the biggest Nicholas Sparks fan in the world, but I've read some of his books, I've watched some of his movies, and I always enjoy them. I might not pre-order each new book when they come out, but I know exactly what I get when I turn to his work. Not that all of his novels are the same, because they are not — at all — but I know that as I read, I'll be spending time with some characters whom I might grow to love or learn to respect or cheer on.
The Best of Me is a story that looks at what might have been, what was, and what is.
Amanda Collier and Dawson Cole were high school sweethearts. However, the Cole family had a bad reputation, so Amanda's parents did everything they could to get her away from him so he wouldn't ruin her future. Her parents didn't have to work so hard, because circumstances changed the course of Dawson's life, which then changed the circumstances of Amanda's. She went off to college leaving her college sweetheart behind, got married, had a family.
It's been 25 years, and unfortunate circumstances have changed Amanda's life, and changed Amanda herself. She finds herself drawn to her old hometown, and specifically to Tuck, the car mechanic who took in Dawson. When Tuck dies, his post-mortem plan unfolds as he tries to reunite Dawson and Amanda, the two kids he loves.
They try to carry out Tuck's wishes, looking back at his life, which causes them to also look at their own lives.
It's a sweet, thought-provoking read about the choices we make in life. I don't know if you'll agree with Amanda's choice or disagree with it, but I guarantee that you'll have an opinion.
If you're looking for a good summer read, Nicholas Sparks' The Best of Me fits the bill. They've just wrapped the movie, which comes out in October, so if you read it now, you'll be all ready to evaluate which is better.
I was fortunate to visit the set of The Best of Me movie this week. Please read my fun post at 5 Minutes for Mom about what my first set visit was like. I'm holding my interviews with Nicholas Sparks and the amazing cast until closer to the movie's release, so this isn't the last you'll hear about it.