I'm excited about The Fault in Our Stars movie, are you? I am glad that I reviewed the book way back in 2012 before it was all the rage, though John Green was a popular YA author before this blockbuster of a book. My 15 1/2 year old daughter Amanda got to be a part of a phone interview with John Green. Hearing his excitement about the movie is contagious. He was honest and humorous:
I would tell you if it sucked. Well, actually probably they probably wouldn't let me do this call if it sucked. But, no, it really was, it was so special. I was just ridiculously lucky.
This was one of the pictures that was released that got Amanda really excited, and I have to admit, seeing this scene makes me smile too: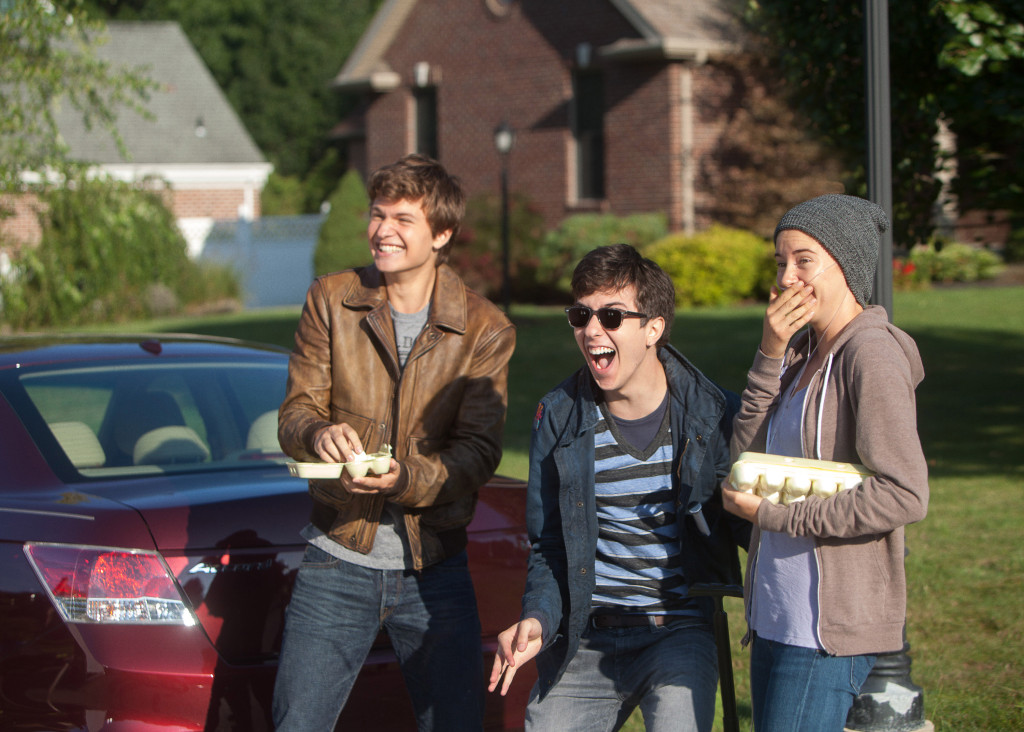 I think that one of the things that makes this story so universally appealing is we see so many forms of love. We see a parents' love for their child, a children's love for their parents, first love between teens, and the love for one's friends (pictured so exuberantly above). I haven't seen the movie yet, but I think that the movie might even intensify this, making it even more appealing to the audience of teens and their parents:
One of the bloggers on the call asked John Green what he saw differently as a result of the film adaptation:
When I was writing the book, I saw the world through Hazel's eyes. I didn't imagine the world through Gus's eyes or the world through Hazel's parents' eyes as much. I mean, I guess I connected a lot to Hazel's dad, so maybe there was some empathy there. But, I was trying to stay narrowly in Hazel's mind and seeing the world as Hazel would see it.

And so, seeing the movie, I thought very differently about Augustus and about Hazel's parents, and even about Van Houten.
The Van Houten reference reminds me that even though I feel as if I've been inundated with images and quotes and reactions from this movie — that there are still things we haven't seen. I haven't seen or heard anything about him in the previews, so that's a whole element of the movie waiting to be uncovered and discovered. We'll be there on June 6, will you?
Please read more about Amanda's interview with John Green at 5 Minutes for Mom where you'll get more insider information about why it's going to be great.
*****
Have you heard about this? We can't go, because my daughter has a commitment that night, but it sounds fun:
"The Night Before Our Stars"
will feature an advanced screening allowing fans to be the first to see the film. This memorable evening will also include an exclusive live stream Q&A with Shailene Woodley, Ansel Elgort and Nat Wolff, as well as author John Green, director Joshua Boone and producer Wyck Godfrey.
WHAT: The Night Before Our Stars
WHEN: 
June 5th, 8:30pm
Eastern /
7:30pm
Central /
6:30pm
Mountain /
5:30pm
Pacific
Attendees will also receive a beautiful commemorative charm bracelet and an exclusive poster from the film!
#FeelItFirst!
Connect Online
#TFIOS
Visit the official website
Like TFIOS on Facebook
Follow @TheFaultMovie on Twitter
Follow on Google+ & Instagram
Twentieth Century Fox invited our writer to be a part of a conference call with author John Green on a phone interview, but no other promotional consideration was given for this post.