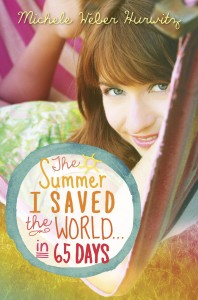 The Summer I Saved the World . . . in 65 Days is a sweet book by Michele Weber Hurwitz, the author of Calli B. Gold (linked to my review), which I enjoyed a whole lot.
Thirteen-year-old Nina Ross is in the summer before she is starting high school.
It seems that a lot of children's lit focuses on the time right before middle school, but I don't read as much that focuses on this time before the next stage. It was a good book that could appeal to 13 and 14 year olds, but is also fine for 12 and ups to read (maybe even younger), looking ahead to that time.
There's mild romance and kissing, and Nina's homelife is pretty sad, with workaholic parents who basically neglect her, but there was nothing unusual in the content for this age.
Nina was a sweet heroine who took this pivotal time to figure out who she wants to be. There are a lot of things in her life that she can't control, like her best friend getting a little boy-crazy and more superficial, or her parents' lack of attention, or worrying about not fitting in at a new school, but she decides to take the summer and focus on something positive, doing one good thing each day.
She might not really saving the world, but she is certainly making a difference, one good deed at a time.
This is linked up to Marvelous Middle Grade Monday. See other recommendations at Shannon's blog.