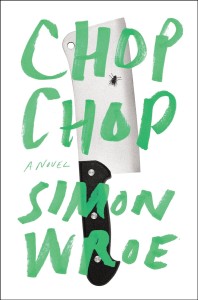 Chop Chop is a novel, told in the somewhat confessional tone of memoir from Monocle's POV. He's an English lit major unable to find work who begins work as a general helper in the kitchen of the Swan in London. We never learn his name, just the nickname that is given to him. His coworkers are also referred to by their nicknames: Racist Dave, Camp Charles, and Harmony, the dark-eyed girl.
The book starts with a bang, with the bad language and hazing that is purportedly common in kitchens. Chef Bob is awful, sending back perfectly good plates and locking the workers in the cold storage when they have made him mad. This breaks them down but also gives them a sense of comararderie and does seem to serve to motivate them to do their best.
The book is heavy with foreshadowing, which kept me reading. It moves back and forth from the narrator's past to the present events, but it works. In fact, the strongest bits of writing are when he is thinking back to his childhood and confronting his past memories. This is made easier when his deadbeat dad moves in with him, though his small flat has no extra room.
I have happy memories of those early summers. Yet remembering them brings me no joy. Perhaps all memories are inherently sad, even the happy ones, and should for that reason be avoided. Nostalgia is not so much the recollection of the things past as the recollection of things you are no longer connected to.
p.95 ARC
Though I was a bit turned off by the strong language at the beginning of the novel (which continued throughout), ultimately the interesting setting of a working kitchen, and the unique way the story was told kept me reading.