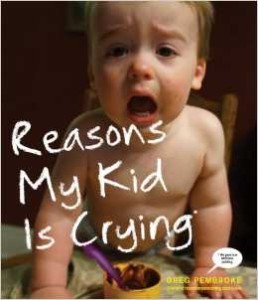 Books that come from blogs too often fall flat. They simply don't translate well. Reasons My Kid Is Crying by Greg Pembroke is one of the exceptions. His Tumblr blog started when he posted pictures of his then-three year old in the midst of crying and provided the captions as to why.
The phenomenon took off, as what parent doesn't have a child who has cried for the most inexplicable reasons at one time or another. My 8 year old frequently does this, most recently last night when she wailed that there was nothing to eat but she was hungry because she didn't like any of the 5 options I offered to her. And yet when she picked up this book and looked through it, she thought the reasons were silly.
Reasons My Kid Is Crying is absolutely hilarious, with 208 pages documenting reasons not only his child is crying but all sorts of other kids, as well. They are separated into categories ranging from "Lost in Translation" to "Sibling Rivalry" to "It's My Party" and so many more.
Were this book simply a collection of photos of toddlers crying with the captions, it would be a cute coffee table book but not much more. Instead, Greg Pembroke includes other tidbits to keep the reader interested from witty introductions to the chapters that alone make you smile to lists of why he would like to have his own tantrum, many of which are truly laugh out loud. This takes the book beyond a mere novelty and elevates it into something more fun and lasting.
I wish I had a friend who was expecting, as this would make a great gift for an almost parent (with a good sense of humor), as well as parents who are currently in the toddler stage. I love the concept behind the book and can relate to so many of the reasons listed. It brings me back to those not always fun years and lets me look at them with humor, something we all desperately need to get us through the days.
Written by Michelle of Honest & Truly! who is grateful to have escaped the toddler years relatively unscathed, although she is terrified to learn that at 8 years old the random tears have started back up again. See the reasons why her child is crying on her blog Honest & Truly! and follow along with her on Twitter where she is also @HonestAndTruly.