TV watching has changed so much in the last few years. Even before streaming services, I was enjoying TV on DVD, and became quite addicted. It's completely a different experience, better in some ways in my opinion. Though I haven't "cut the cord" to cable — or in my case, satellite — I do the majority of my television watching on my own timetable, either via live TV recorded on my DVR or streaming.
I'm not exactly sure what constitutes a binge. Is it watching a season in a month? An entire multi-year series in a year? Anytime one watches more than one episode at a time? (I'd love to hear your thoughts below in the comments).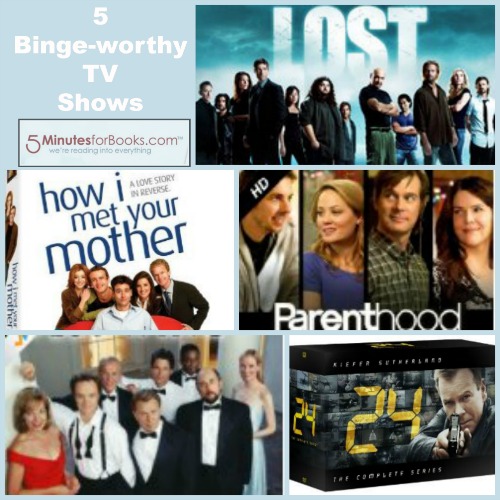 Here are 5 of my most binge-worthy series. I'd love to hear if you agree or disagree or have other suggestions to feed my habit.
24
Oh Jack Bauer, his trouble-laden life, tackled with the cell phone with the battery that never dies. This was my very first binge experience with TV, back when I received the Netflix DVDs in the mail. We had heard the buzz, so we started watching it after it was a few seasons in. Because of the suspenseful nature of the show, watching 2 or 3 episodes in one sitting was perfect. In fact, once we caught up to real-time, we took a break so that we could continue watching it that way, because the cliffhangers drove us nuts.
The show got a bit more outrageous as the years went on, and I stuck with it, but I didn't miss it when it was gone. That said, I'm pretty excited about 24: Live Another Day on May 5. It's a "series event." I heard an interview with the director who said that he likes this format, allowing for extended storytelling since it's not a minute by minute approach.
How I Met Your Mother
I binge-watched this show after first seeing a few episodes on an airplane. I think it was in season 4 or 5 at the time, and I just continued watching DVDs until I caught up to season 7 or 8. I loved this team comedy, clever and original and smart with tons of heart.
Whether you liked the ending, didn't like it, or didn't care because you never watched it, you likely saw your twitter and facebook feeds blow up a few weeks ago after the series finally (The season 9 DVD will contain an alternate ending for those of you who hated it). I didn't love the ending, but I didn't hate it either. It made sense and this whole season (if not the whole series) was pointing in that direction.
I've decided to go back to the beginning and am enjoying season 1. Knowing how it ends and where all the characters are now, 9 years later, makes the viewing a completely different experience. In fact, I just saw an episode "Belly Full of Turkey" (the Thanksgiving episodes are really the best) where we learn the mother's name! That shocked me.
The West Wing
When the DVDs went on sale, I snapped them up. By the time it ended, it was one of my few "can't miss" shows. But going back to the first season was a treat, and I fell in love with the characters all over again. It's still a show that I watch again and again and have watched as a series binge twice. I enjoy the snappy dialogue and characters, and who can complain about Rob Lowe? Incidentally, I've decided that the fact that Rob Lowe was cast as basically a geek — and that he pulls it off — is one of the underestimated brilliant moves in the show.
When it became available to stream on amazon and Netflix, I began hearing people talk about it, and that made me so happy. If you haven't seen this show and like good quality writing and acting, please watch. If you are a fan, but haven't watched the whole series back to back, you must try that. Talking about it makes me want to go back to it again, but I think that I'm going to wait until this summer when I might see if I can convince my 15-year-old daughter that it's binge-worthy.
Lost
I watched a few episodes when it was first available to stream a couple of years ago. I liked it well enough, but I must have gotten interested in something else, so I didn't continue. My daughter recently binged the entire series, and she wants me to watch with her, as she goes back to watch the beginning with the end in mind. We are most of the way through season 1, and I'm definitely enjoying it.
Like 24, it's a good binge watch, since it tends to have cliffhangers. I know I'm late to the game here, but if you are as well and are looking for a summer series, there's nothing better than a freaky tropical island to make you to be happy at home.
Parenthood
After hearing people gush for years about Parenthood, I finally decided to jump in. I don't know why I never started watching it, since I love the cast — and that's one thing that often draws me to a new show — and I'm a fan of the family drama. Nevertheless, I did start and was probably hooked by the first episode. As I recall, I began this during a gray spring, and binge is the only way to describe the viewing frenzy that occurred. I caught up and started watching live last season.
Summer is a great time to try out new series and try to catch up before the next season starts.
So now that shows are ending, are you turning to your streaming services or DVDs of old favorites? What else should I watch? I've gone back and forth on Mad Men so many times, but it might be a bit dark for me. Friday Night Lights is another that I've considered and have watched an episode or three, and I think that my daughter might want to watch that with me.
Also, I'd love to know what you think constitutes a TV binge. Leave a comment and let me know.
Check out our current giveaways. Subscribe to our feed. Follow us @5M4B on Twitter or on Facebook.