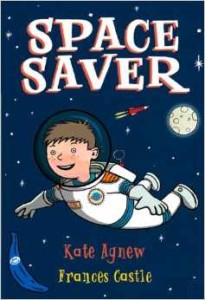 Space Saver
: Ben has, as usual, come to Mission Control after school. Both his parents work there, and it's usually a great place to hang out. But today, something is wrong. Everyone is shouting and upset, and there aren't even any biscuits for his tea. That morning, a wheel fell off the Moon Buggy with the new spy camera mounted on it, and the astronauts weren't able to work with the tiny screws to fix it. They have flown away and left the buggy with the spy camera just lying there on the moon, where anyone could get at them. Even the Prime Minister calls to yell about it, and Ben answers the phone. "I expect you to sort this problem out straight away," shouts the PM. Ben takes his words to heart, and sets about to solve things in his own inimitable way.
Space Saver
is a delightful book that will spark children's imaginations. Most kids I know dream of floating about in space, and everyone loves to picture themselves handily fixing a problem that is stumping the grown-ups.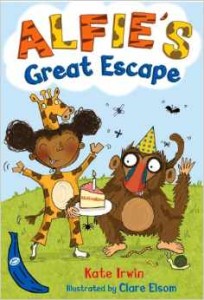 Alfie's Great Escape
: In Alfie's Great Escape
we meet Alfie, a baboon who lives in a safari park. He knows lots about humans, he thinks, because he sees them every day, driving through his home. They seem to always be happy, chatting and eating ice cream and enjoying each other's company. So Alfie decides to steal bits of people's cars until he could make a car of his very own, which allows him to drive off in search of human companionship.
He ends up at a birthday party. Unsurprisingly, he really doesn't know how humans behave, and makes rather a (sorry!) monkey of himself. But he learns important lessons about contentment and friendship, and the party ends up being a success in spite of his rather unexpected present for the birthday girl.
Space Saver
and Alfie's Great Escape
both feature speech bubbles to enhance the story, and both are fun, well-told tales. Both titles are rated as "blue bananas." Egmont Press uses a simple color-coding scheme to let kids and parents know if the book is appropriate for their reading level. Blue is the middle level, for kids who are getting more comfortable with reading on their own yet who still like pictures on each page.