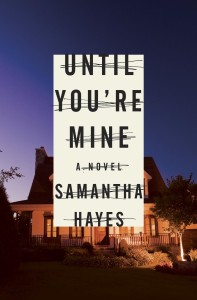 There's nothing like a good psychological thriller. With the smashing success of Gone Girl (linked to my review), I have a feeling we'll continue seeing even more books in this genre.
Until You're Mine: A Novel is the kind of novel where you are never quite sure what to believe. Just when you think you have one character's motives figured out, something happens that turns that on end.
Claudia is the stepmother to preschool twin boys who lost their mother when they were infants. Their dad/her husband is a naval man who is gone on assignment for months at a time. So when Claudia finally gets pregnant — something we sense has been difficult for her — and he's going to be away for the birth, they decide to hire a nanny.
Zoe seems perfect. The boys love her, and she's nice to have around the house, but Claudia feels a bit uneasy. Is it just pregnancy hormones or is there really something off there?
In addition there has been a couple of murders of pregnant women, which cross Claudia's desk as well in her work as a Social Worker.
These are the main plotlines: Claudia getting ready to have her baby and dealing with her husband being away and her suspicion of Zoe, getting to the root of Zoe's odd behavior, and the murders. In all of these, we are trying to figure out how to judge people, but there were a couple of interesting sideplots that pushed it over the top in terms of interest and uniqueness.
The big climax was exciting and did not feel forced, though at first I thought the final scene where we understand the true motive felt kind of tacked on. But the more I've thought about it, the more it truly fits and was an effective way to wrap it up.
It's the kind of book that once you know the truth, you want to go back and read it again to see if it holds up. I didn't do this, but I did think of certain scenes that had me thinking one way and once the truth was revealed, as I reevaluated, they seemed to hold up. It was just my assumptions that had me thinking incorrectly.
CONTENT: The murders are described in somewhat graphic detail. If you are squeamish, it might bother you. There is some swearing but very little sexual content as I recall.