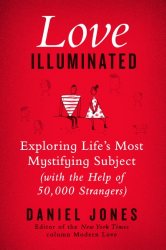 Quick–what's the most important thing in your life? Chances are, unless you're PMSing and answered chocolate, that your answer had something to do with love and relationship. Love is a endless subject, isn't it? It's a continuing topic in books and movies of all types–not just romances or rom-coms, but dramas, history, thrillers, and more. It saturates our music and poetry, and all aspects of our lives. And we are endlessly fascinated by it, as all those songs and books and movies show.
Daniel Jones is the editor of a personal-essay column about modern love for the New York Times, and as such has become basically an expert on the subject of what Americans are struggling with and enjoying today. Complete strangers reveal to him (and all of us, really) their most intimate thoughts, desires and experiences. Love Illuminated: Exploring Life's Most Mystifying Subject (with the Help of 50,000 Strangers)
is the result of 9 years of these stories, of which some 50,000 have crossed his desk.
Jones is quick to deny that he's an expert. "In my mind I have not been mastering love all these years so much as marinating in it," he claims (p 3) Yet he certainly can describe for us how many have dealt with the thorny problems of love, from how to find it in the first place to how and when to hold onto it.
Love Illuminated
is divided into 10 chapters following 10 phases of love, from pursuit and destiny to vulnerability, connection, trust and practicality. He spends time looking at monotony, infidelity, loyalty and wisdom. Each chapter looks at basic ways different people have dealt with the challenges represented therein, and offers anecdotal wisdom as well as, occasionally, Jones' own thoughts.
For example, in the chapter "Practicality: Love's Fluorescently Lit Classroom," Jones encourages people to move beyond the "tiki bar phase of relationship (with the fruity drinks and line dancing and sexy sarongs) and enter the fluorescently lit classroom phase of hard desks, steel chairs and number 2 pencils." (p 123) The syllabus–individuality and how to maintain it, identifying as a family (in other words, which last name?), and equality in division of labor and income–represents much of the nitty-gritty work of relationships. Jones subdivides each issue into various points and counterpoints. He comes up with 13 options for last names, from full patriarchy (everyone takes husband's last name) through first-child sex dominant (first child's sex determines which parent's surname gets chosen for all subsequent children) through name sharing (locating and marrying someone who already shares your surname.)
Jones includes lots of stories and anecdotes, and the book ends up tracing certain societal shifts as well. (examples: hooking up amongst college students (p 65) and transgender operations (p 69))
Jones' writing style is chatty and amusing. Love Illuminated:Exploring Life's Most Mystifying Subject
is an enjoyable read on a fascinating topic.