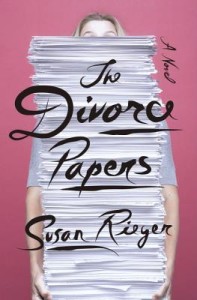 Getting a divorce is always messy. That's exactly why Sophie Diehl is a criminal defense attorney and doesn't work on divorce cases. When her small law firm's divorce experts are out of town when a high profile client asks them to take on his daughter's divorce case, she is asked to fill in and conduct the initial interview in The Divorce Papers by Susan Rieger. When Mia Meiklejohn Durkheim loves Sophie's approach, she is unwillingly roped into the case.
The book follows the year of that divorce in an epistolary style. There is no narrative within the book whatsoever. Instead it is a peek inside the case files from notes Mia wrote to her husband to the case filings to emails to and from Sophie. In that sense, right there this becomes a book that won't appeal to everyone. While you can most definitely skim over some of the legal documents and still follow with the story, they are part of what makes this a 480 page book.
The story includes not just Mia's divorce and how it is being negotiated between the firms and the acrimony between Mia and her high-powered pediatric oncologist husband but also Sophie's personal life as described via emails to her best friend and potential boyfriend. I love the concept of this book, and I actually enjoyed the character of Mia quite a bit. She is a hoot and someone I would love to sit down and have lunch with.
Sophie, however, is not my favorite person. Each time I read the emails to and from her boss, I wanted to cringe. For a 29 year old lawyer, they were incredibly unprofessional, and they crossed boss/employee lines regularly, something I would never have dreamed about when I lived in the corporate world which is not nearly so starched shirt as the New England law firm where Sophie works.
In addition to those emails, she uses her best friend to complain about things that make her look like a teenager in my mind, obsessing about whether or not her mother is having an affair with her boss, detailing her daddy woes as he ignores her, and dithering about issues she's having with her potential boyfriend. I almost feel like the book would stand better were there a single plot that stuck with the divorce case rather than trying to overly-humanize Sophie with the other information from her personal emails.
That said, I was fascinated by the divorce process, and I enjoyed the epistolary nature, once I got used to it. Seeing the negotiations between the two law firms and how and why they set up their positions the way they did was enlightening and something I enjoyed following. The same holds true for the interoffice memos with some of the drama occurring within the law firm where Sophie works.
This is definitely not a book for everyone. The epistolary writing will be a turnoff to many, and Sophie's naivete – somewhat needed so that she could ask questions that allowed the reader to better understand the divorce process – came across as too immature, which is another downfall of the book. Even so, I enjoyed reading it, and there is definitely an audience that will enjoy it.
Written by Michelle from Honest & Truly! who is grateful that she's never been divorced. She wrote about her husband who has been in a blog post inspired by this novel, however. You can read about why divorced men make great husbands, as well as following along with her on Twitter where she is also @HonestAndTruly.