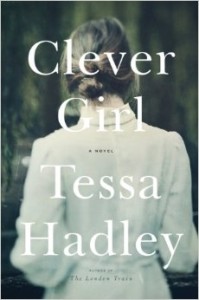 Clever Girl
is a lovely book. Slow moving, told with a clear-eyed knowingness, it is in many ways a simple story, following one woman's life from about the age of 10 till 50. In doing so, it gives a broader look at the times, and the ways in which an individual's experience both reflects its culture and is differentiated from it. And yet, at the end, I was left wanting. Perhaps I wanted Stella to learn more from her life experiences, or perhaps I wanted the author to offer me more to chew on. Regardless, although it wasn't perfect, I loved the book.
Stella's early childhood, in the 60s, is spent with a single mother who claims to have been widowed, although Stella comes to doubt the truth of that. When her mother remarries, she resents her step-father and the bourgeois respectability that her parents seem to exude. But by this time, they have realized that she is clever, and push her to apply for a scholarship to a leading high school. Instead of going on to college, however, she ends up pregnant at 18, left alone to raise her child (the father has moved on and doesn't even know the child exists). Later, she lives in a commune and has another child, whose father also isn't around to raise him after a horrific and in some ways random death. She copes with these disappointments though, and manages to go back to school and finish her degree in her 30s. By the age of 50, she's married an older man and is living a comfortable life, albeit one she couldn't have imagined being content with when she was younger.
I do realize I've told you a large chunk of the plot, but don't worry–there is still much to discover about Stella's experiences. It's narrated in the first person, and although we see the events of Stella's life through her own eyes, there is knowledge there. The point-of-view is adult, mature, looking back. Hadley's writing manages to be spare and lush at the same time, drawing the reader into the story.
Although there is plenty of drama–failed marriages, affairs, firings, violent deaths–it reads like a real life, perhaps because the bulk of the action is the stuff of which normal days are made, from childhood friends to first loves, from sleepless nights with a baby who's certainly old enough to sleep through the night to family parties which spouses are reluctant to attend. And that's what makes the book luminous. The characters, their choices and their situations ring true. I loved feeling like I was watching the decades pass, with Stella managing to represent each era while still being completely individual.
Clever Girl
is overall a gorgeous book, and I highly recommend it.
Find out more about the book and author and read others' opinions at the TLC Book Tours page.