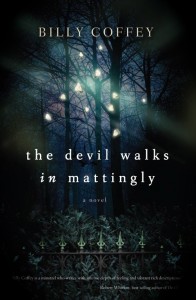 The devil walks in Mattingly, and everyone is willing to take the blame for it. This is the fourth book by Billy Coffey, and though they aren't technically a series (especially since The Devil Walks in Mattingly takes place approximately four years before the previous book When Mockingbirds Sing), they all take place in similar situations with the same general set of characters, though the "stars" of each book are different.
In The Devil Walks in Mattingly, Sheriff Jake Barnett has never gotten past the day twenty years ago when he ventured into Happy Hallow and believes he killed Phillip McBride. He doesn't feel like he ever became a true man and definitely never lived up to the image his father had of what he expects a Barnett to be. His entrepreneurial spirit disappeared after his business failed, and he fell into the job of sheriff where his most taxing challenge is bringing money every Monday to the bank from bingo, something he's continually grateful for.
For the past month, he's been having terrible dreams where Phillip McBride has visited him, telling him that he's coming back for Jake and that he and his wife are already dead. Jake relives the day he found the boy at the base of the cliffs each night, but he can't escape it, and his sanity is slipping.
His wife Kate isn't faring much better. She also blames herself for Phillip's death thanks to the trick she played on him the day he died. She keeps a notebook of people around town she helps. She can only watch helplessly as Jake pulls away from her and becomes more distraught by his nightmares.
Taylor Hathcock is the only one of the triangle who feels no guilt over the event of that long ago day. He lives in the holler where everyone fears to tread and believes the world is merely a dream and that people need to wake up – and he is the one to Wake them. When he sees footprints of something that has come out of the Hole in the grove within Happy Hallow, he knows that it's time to find Her.
And all hell breaks loose as everyone has to reevaluate who they are and why they do what they do. Many react to the murders within their town by blaming their own sins and failings for the monster walking their streets. Others try to hide their sins further and pretend like nothing ever happened.
This 400 page tome is a deep book. It is a fascinating read as you slowly uncover what truly happened 20 years earlier and why Phillip has returned. The characters change and grow, even within the short period that encompasses the book. That said, it is heavy and a challenge to read.
It started somewhat slow and confusing as the book jumped from character to character with much foreshadowing. And the evil portrayed within the book meant that I had to read it in doses rather than being able to sit down and read and digest it in one or a few sittings. Once I got into the book, however, it was a fascinating read – and I'll admit that I stayed up later than I had intended to finish the last 80 pages of the book.
And with my grasp on Billy Coffey and his writing, my next book to pick up will be When Mockingbirds Sing to continue with the story and see where my characters are now.
Win a Kindle HDX!
Written by Michelle who is grateful to live in a fairly innocent town, though she is grateful it offers more opportunities than Mattingly for her children. See what she and her children are up to via her blog Honest & Truly! and follow along with her on Twitter where she is also @HonestAndTruly.