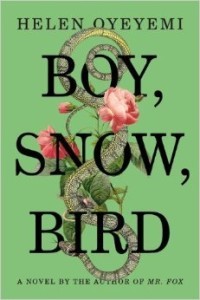 Boy, Snow, Bird
, the latest novel by author Helen Oyeyemi, proves once again how adept she is at giving us fresh looks at old tales. This unusual retelling of Snow White offers readers a reflection on beauty, family and the secrets they keep, and what exactly is meant by "the fairest of them all."
Boy Novak is beautiful–a natural blonde with unusually dark eyes. She grows up in 1950s Manhattan with her father, a creepy abusive rat catcher, who keeps starving rats in cages in the basement and threatens to spoil her beauty by letting them gnaw at her face. Boy escapes to a small town in Massachusetts, Flax Hill, which is known for its craftsmen. She lives in a boarding house, finds a job, goes on double dates with a friend.
There are themes throughout of "classic" beauty–i.e. blonde–and mirrors. Boy likes to look at herself in mirrors–sometimes she loses herself in them. Her daughters eventually will realize they don't always show up in mirrors, or that their reflection is doing something else. She is hired for an event because she is blonde, along with several others whose job is to chat with gentlemen for an evening. But the idea of fairness, in its meaning of light or white, really comes to the surface when she marries Arturo Whitman, a widower with a delightful 7 year old named Snow.
Snow has very dark hair and eyes but her skin is light. She loves to sing, and sometimes laughs to herself, and wear flowers in her hair. Boy falls in love as much with Snow as she does with Arturo. Boy's daughter Bird is born with a suntan, Boy thinks at first, and then she overhears a nurse say, "That child is a negro." The doctor assures Boy that her husband is a reasonable man, and Boy realizes he thinks she's cheated. But she hasn't. As she puts it, "The doctor thought I'd gone to bed with a coloured man and I had. He was my husband." (132)
The birth of Bird brings to light something that the Whitman family has kept hidden–they are light-skinned African-Americans and have been passing as white. This is the 1950s, remember, and they have tales of growing up in the South before they fled north. Although Arturo's mother is in many ways a truly horrible character, she still elicits sympathy with some of her stories. What is terrible is how she treats her own flesh and blood who threaten her carefully-orchestrated masquerade. She's not a step-mother nor an evil Queen, yet she has her part as villain, although it's Boy herself who rejects Snow and sends her away to live not with dwarves but with a dark-skinned aunt, where Snow learns for the first time of her ancestry.
Boy, Snow, Bird
offers an examination of our country's recent past, the time of Emmett Till and segregated drinking fountains, yet it is at its most powerful when it looks at the damage these attitudes inflicted on individuals in the form of self-loathing. This is couched in a fairy-tale setting, in an extended family, and Oyeyemi freely uses fairy tale language as well as including several actual tales woven throughout, from Anansi to La Petite Capuchine, although always with a twist. As Boy raises Bird (and loves her fiercely), she will eventually realize the need to come to terms with her own recent past–her abusive father.
Boy, Snow, Bird
is very well-done, using the classic tale as a springboard rather than an outline, and containing a bit of magic realism as the best tales often do. The combination is heady and will leave readers with much to ponder. A very interesting story.