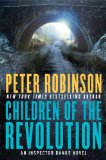 The emaciated body of a disgraced academic is found at the bottom of an embankment, obviously thrown off the bridge overhead. The railings are high enough that it's either suicide or murder, but the extent of the injuries point towards murder–especially as he has 5000 pounds in his pocket. Inspector Banks and his team are called in to investigate.
Banks is shocked to discover that the murdered man is close to his own age–he looks so much older. Subsequent investigations show that since his dismissal from the university after accusations of sexual harassment, he's been living as a hermit and slowly starving himself to death. But there are signs of an interesting person–his vinyl and CD collection, his photographs of riots and political unrest in the 70s, and more. The answer to his murder lies in his past, it's evident, but where? At the university where he was dismissed, friendless, 4 years earlier? Or does the answer lie even further back, in those photographs of political unrest and riots, and acrimonious divisions between former allies?
Banks and his team dig deeper and deeper into the victim's past. They find a small, personal stash of marijuana. Could that be related to the 5000 pounds? They look into his time at university, and talk to both friends and foes, colleagues and students. They find record of a phone call made to someone very well connected, but that seems to have little to do with the case at hand and Banks struggles to find a connection. Just when he begins to feel he's getting somewhere, he finds himself called on the carpet and told in no uncertain terms to cease and desist–which of course only makes him more convinced he might be on the right track.
Children of the Revolution
takes time to look at various members of the team and how they go about their detective work, questioning various people who might be able to shed light on the case, sometimes with great tact and sometimes more antagonistically. Banks himself enjoys spending evenings mulling over the case with a glass of red and some background music, and he's made uncomfortable by some obvious similarities between himself and the victim.
This is the first Inspector Banks I've read, although it's part of a series. Events of previous books are alluded to but it's not necessary to have read them to follow this story. I'm always happy when I find a new detective series to love, and I'm going to have fun digging out copies of previous books. (I live in Portland, OR, home to the justly famous Powell's Bookstore, and I love looking for gently used copies of books there.)
Children of the Revolution
is a classic detective novel, one where the reader enjoys following the police as they uncover clues and figure out which ones will actually lead to something. I really enjoyed it, and highly recommend it for those of you looking for a good murder mystery with which to wile away a rainy afternoon or a winter's night or whenever you get time to read.