Finding books that tap into hobbies and interests is often a way to encourage a child to pick up a book. I love the focus on the arts that the Orca Limelight imprint achieves.
These are all younger young adult selections (are you as stymied as I am by that label??), right on the cusp of middle grade. It seems that most public libraries shelve books for 6th and 7th graders in the YA section, because they don't want them on the same shelves that 10 year olds are picking from, but then those older middle grade readers end up browsing shelves that have teen YA. There's not a good solution. But books like these are great for middle schoolers who want to read more mature stuff. They are set in high school and nod to true YA content, but in general, there's not much content inappropriate for middle school readers. Each of these probably has a swear word or two (which I find is no longer taboo in middle grade lit), but I think that they are good selections for those 12 year old readers looking for more.
Attitude by Robin Stevenson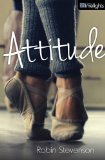 Cassie leaves her hometown in Australia to attend an intensive classical dance workshop in Canada. She finds kinship with these girls who are as competitive about dancing as she is, unlike the girls in her high school back home. In some, that competitive spirit turns mean. There are some who are unwelcoming to the summer students, especially when an respected local group invites the school to auditiion for the part of Clara in the Nutcracker.
Mean girl antics abound, including sabotage, false rumors and more. Cassie shows what she's made of when she decides to stand up for what's right. It takes some self-examination, and it ultimately helps her figure out the effort and sacrifices it will take to be a prima ballerina.
The relationships felt true in this book. Even though the girls truly wanted to take their dancing to the next level, there are family pressures in other cases. Any child involved in a competitive sport will relate the way these girls pursue their passion.
Totally Unrelated by Tom Ryan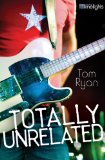 Neil is in an Irish band with his family, Unlike the girls in Altitude, he's not sure it's his passion at all. He's not even sure how good he is. He feels like the black sheep of the family. They have characteristically Irish looks, and he's darker. In addition to that, he doesn't seem to have the natural talent that his other siblings do.
His friend encourages him to use his guitar for more contemporary music, and Neil finds that he enjoys that more. They write a song together to feature in the upcoming youth talent show. When a Family McClintock gig interferes with the date, he drops out at the last minute, and fears that will cost him his friendship as well as his possible romance with the girl who is in town for the summer who he invited to sing in their band.
I liked the family dynamic in this one.Neil's parents want him to stay in the Family band and don't quite understand his misfit complex, but they support him. His grandmother who lives with them understands him a little more and encourages him.
Cut the Lights by Karen Krossing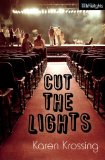 This novel felt the most mature of the 3, and I'm not sure I'd put it in the hands of a 12-year-old. It just felt much older thematically, even though there's not much explicit content. This actually makes it a perfect book for a young teen.
Briar and Ratna are sophomores vying against more experienced writers and directors for a place in the one-act play competition. The theater setting is rich, from the perspective of the playwright (Ratna wrote the play though she's acting in another play), actors and especially the director (Briar).
Almost all of the action in this novel takes place in the theater. There are regular high school dynamics played out within the theater crowd, as well as teacher-student relationships, but the crux of the story is Briar's growth as a director, and the solidification of her desire to pursue her passion.
These are Cybils nominees in the category for which I am a panelist. My opinion does not represent the panel or the Cybils.
Find more fun titles for that 8 – 12 year old set over at Marvelous Middle Grade Monday.
Check out our current giveaways. Subscribe to our feed. Follow us @5M4B on Twitter or on Facebook.