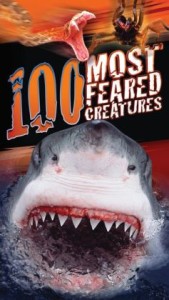 The wee ones are fascinated with nature, and the more information about those gross and creepy and scary creatures out there, the better. Scholastic has recently come out with 100 Most Feared Creatures by Anna Claybourne. There are other books in the "100 MOST" series, and this follows the same fun format.
The wee ones had an absolute blast going through this book and finding all sorts of fun facts to share with me. "Mom! Did you know that the lamprey can attach itself to people and munch the flesh once they're attached? Ewww!" or "Mom! Mom! Did you know that the boomslang (a snake) can bite you and you think you're ok but later you start bleeding through all your body openings?" The facts they've come up with have certainly been eye-opening.
Any book that encourages them to read and dissect information and increases their interest in a subject is definitely high in my book (pun intended). 100 Most Feared Creatures fits the bill. Each page is filled with photos of the animals, along with quick tidbits about them – size, deadly weapons, and scary skills. My favorite, of course, is the rating scale of "how scary" from one fang of "doesn't scare me" to five fangs of "be afraid. Be VERY afraid" with a wide variety, although far more 4 and 5 fang ratings than I was hoping to see!
There are so many facts and bits of information throughout, such as a mustelid – a type of animal I'd never heard of before. They are fierce meat eating animals that have backward facing teeth in the backs of their mouths so help tear chunks of flesh. I was also surprised by some of the animals included. The beautiful giraffe would never occur to me to be a fearsome animal, but it rates 3 fangs with its ability to kick hard enough to kill a lion. Ouch!
Scholastic does a great job with their nonfiction books in terms of making them accessible and useful for research. Beyond simply being filled with all sorts of unique information, the book includes an index to look up your "favorite" animals. I also appreciate the glossary in the back for what may be new words for many readers. I encourage the wee ones to ask me if they don't know a word in a book, but when they can look it up and figure it out on their own, it makes me even happier as they're learning to problem solve, too.
Written by Michelle who may never leave her home again after reading about all the ways these animals can kill or maim her. Then again, her home isn't so safe either! See what perils she faces on a daily basis via her blog Honest & Truly! or follow along with her on Twitter where she is also @HonestAndTruly.