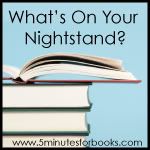 The Nightstand carnivals that fall during Thanksgiving and Christmas are always poorly attended, so here's the thing — we're going to do it twice. This might pop up in your feed on December 24, and you'll think, "I can't write something up. I'm out doing my last-minute Christmas shopping, and I'm hosting 12 people for dinner tomorrow!" No worries. Take this as your reminder. I'm going to post another link up next week, the 5th Tuesday, on December 31. Link up then.
I didn't want to skip it or call an audible, because there are some of you who are all organized and on top of things, and you've already written a post and had it all ready to link up.
So take your choice. Link up today or link up next week. If you link up today, your links will still show up in next week's post.
My Nightstand is my travel bag for the next week or so. I'm looking forward to doing some vacation reading, and also using the long car trip to get some reading done. After a long Cybils season, I'm ready to scour my bookshelves for what might be calling to me.
Check out our current giveaways. Subscribe to our feed. Follow us @5M4B on Twitter or on Facebook.