Each of these new middle grade novels have interesting historical settings and are written by award-winning authors. They also both have fantastic covers, so let's look beyond them to what's inside.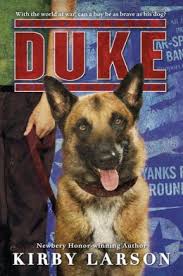 Duke is by Newbery Honor author Kirby Larson. Dog lovers and those interested in World War II will enjoy it for sure. The story is told from the point of view of 11-year-old Hobie. He likes baseball, thinks his little sister is too much of a pest, lives to hear the newest episodes of his favorite program — he's anykid. But he also worries about his father who is serving abroad in World War II. It's common to his friends and other townspeople, but it is unique to most kids of today.
Soldiers off at war was the culture of the day. Adults used their ration cards and did without when they had to. Children built models to be used to help train soldiers. When Hobie hears about "Dogs of Defense," a program that uses dogs in combat, Hobie feels like he has to sacrifice his well-trained dog Duke to the cause. He feels so proud, but the pride soon fades when he realizes how much he misses him.
The Lieutenant who works with Duke begins writing Hobie letters, so we get a small look at what the dogs did.
If you know a child who likes historical fiction, I think they'd like this one for sure. But I also think it's "real" and relevant enough to appeal to kids who like more typical school/kid stories as well. It's accessible to elementary kids of all ages, from young readers on up.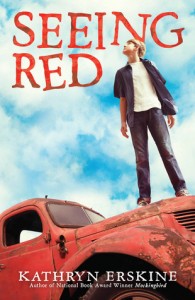 Kathryn Erskine has been honored with a National Book Award. Seeing Red is a complex story about race relations in the 60's in the South (Rocky Gap, Virginia). It's set in the 1960s, a few years after the forced segregation of schools. When a teacher tells them about this period in history, the kids can't believe that they didn't know about it.
Red is dealing with a lot. His father has died, and his mom thinks they might have to move because business at the shop isn't as good. On top of it all, he has to deal with some facts that he uncovers about his family. He's always been friends with the old African American neighbor Miss Georgia, and used to be friends with her grandson Thomas. Red is ready for answers, even if they are difficult, but Miss Georgia isn't ready to share.
I'd recommend this book for older readers, 12 and up. It's a long book and feels a bit long in places. It also deals with some of the tragic senseless violence that took place during that time in history. There are a few mild swear words as well.

These opinions are mine alone and not meant to reflect the Cybils as a whole.