Last week, I featured shorter titles for middle grade readers (both young and older), but this week for Marvelous Middle Grade Monday I am sharing some titles that to me fell into the upper range of middle grade fiction, which will be better enjoyed by middle schoolers, 6th to 8th grade. All of these books were nominated in the Cybils Middle Grade Fiction category, for which I am a round I panelist, but these are my thoughts alone and not meant to reflect that of the panel as a whole.
Navigating Early by Clare Vanderpool
This is a beautiful book. Lyrical. I think it's appropriate for older readers (6th and up, I'd say), because it is so thoughtful and almost poetic, not because of any specific content.
The novel is set in the 1940's, so things are a lot different, but it feels accessible, because what boy doesn't want to go on an adventure? one of the differences is that when Jack's father comes back from war after Jack's mother dies, 13-year-old Jack is sent from his home in Kansas to a boarding school in Maine. He's a real fish out of water, or rather a baseball-loving midwesterner thrown into the water. When he meets Early, his life begins to change. He learns to row, and he does a lot of listening to Early's stories of Pi, the number, but also the legend of Polaris, which he has also somehow turned into his brother who never returned from war. It is the search for his brother and for Pi — to prove that despite what their math teacher says, there isn't an end to the number Pi — that leads Early and Jack on a trip down the Appalachian trail where they meet pirates, a Swede, an old lady who is digging her own grave, and a bear.
I listened to the audiobook version, and Robbie Daymond (new to me as a reader, I think) gave Jack's voice and the narration such a lovable, winsome tone that I loved listening to this story.
Zero Tolerance by Claudia Mills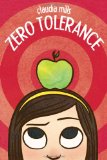 Sierra is a good girl. She's in the leadership club, she makes good grades in her advanced classes, she is in an elite singing group. But when she accidentally brings her mother's lunch bag to school instead of her own, and finds a paring knife that her mother packed herself to use to cut her apple, she suffers from a "zero tolerance" policy on weapons. Because Sierra is a good girl who follows the rules and respects them, she turns in the knife as soon as she sees the mistake. That sets the wheels in motion and she has to go to in school suspension as she awaits her expulsion hearing.
Of course while she's there, she gets a peek at how the other half lives — those who aren't so "good," and it's an eye-opening experience. I like the nontraditional take on tolerance and respecting others that sort of came about from that one. And of course it's a jab at "zero tolerance" policies. The novel had a strong school setting, which helps kids relate easily to the characters, a little romance on an age-appropriate level, and some fun hijinx.
RESERVATIONS: Sierra and others I think call the school secretary a b***h. Not once, not twice, but at least 3 times. I am not really comfortable with swearing in middle grade fiction, but especially swearing about an adult in authority? This really bothered me, in spite of the fact that it was an otherwise clever and clean book.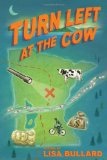 Travis' life has changed a lot. His father died before he was even born. His mom has recently remarried. She's happy, but Travis doesn't feel like he fits in. He basically runs away from California to his grandmother's house in Minnesota. After talking to his mom, it's agreed that Travis can stay a while. While he's there, he tries to find out more about the father he never knew from his grandmother (Dad's mom).
He begins hanging out with the local kids and finds out almost immediately that his dad was thought to have died in a boating accident after hiding money from a bank robbery on the island. The whole town has been looking fr it, but Izzy and her cousin Kenny have devoted the summer to finding the cash. They decide that having Travis on their side could help them.
There's some adventure and a lot of good old fashioned fun as they spend time scheming and looking, and trying to survive once they get too hot on the trail and someone else starts threatening them.
CONTENT NOTES:
I like to know what type of content is in a book before I give it to my child. This one has some mild romance — totally age-appropriate "liking," but it was some of the language that made me recommend this only for older readers (as opposed to including the younger end of 4th grade as suggested). There are a few trailed off thoughts, like "stick it up your —" and when talking about chicken poop bingo (a very funny scene, typical of small-town America!), they said, "Once he even said chicken sh— you know the word we're not supposed to say." Not writing them down doesn't take them out of kids' minds.
Most middle schoolers hear this sort of thing at school, not that it makes it right, but I guess authors are trying to be "relevant," but I don't like the trend I've noticed of swearing in books aimed at middle grade students, especially since the "4th to 7th" grade range is pretty wide.
What about you? Leave a comment and let me know your thoughts about swearing in middle grade novels, even those that might be aimed to 11 – 13 year olds as opposed to a younger audience.