This week, I am featuring several short chapter books, linking up to Marvelous Middle Grade Monday again at Shannon Messenger's blog. If you are looking for recommendations for your kids, check it out.
Just because these books are short, doesn't mean that they are meant only for younger readers. I am putting them in order of maturity/appeal to older readers (in my opinion).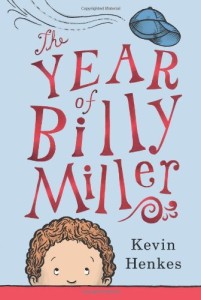 The Year of Billy Miller by Kevin Henkes is the story of, wait for it, Billy Miller. The book takes us from the start of 2nd grade to the end. This is a short book with fairly large print, but it's not just a "ready for chapter books" sort of book. It features Billy's fears and worries and accomplishments. School stories are very popular, but tend to either feature bratty girls or older kids facing different concerns than a younger elementary school kid. I love that Billy's problems are totally age appropriate, and examine the feelings — not just a kid getting into trouble and being punished. There's some humor too, but it's not the over-the-top sort of writing that you see in earlier chapter books. This is quiet and thoughtful. It's also kind of funny in places.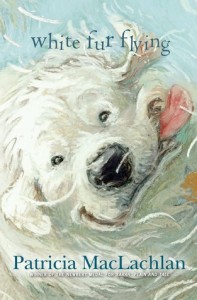 White Fur Flying by Patricia MacLachlan is a story from 10-year-old Zoe's point of view. She lives with her parents, her younger sister, a mimicking parrot, and some rescued Great Pyrenees dogs. Zoe loves the dogs and helps out with them, making her come across as older than her years. She's a strong character, which I think is admirable and unusual — having a strong elementary character who isn't all about laughs or trouble, but about character and heart.
When Phillip moves in with the neighbors (his strict childless aunt), Zoe wants to reach him. He's going through some family trouble, and he doesn't talk. But Zoe and her little sister Alice see him for who he is. This short novel has some humor and some adventure, and could be enjoyed by kids in any elementary grade.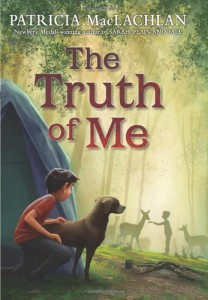 The Truth of Me is also by Patricia MacLachlan. It's probably the shortest of the bunch, but the most mature and resonant. Robbie goes to spend time with his grandmother, because his grandparents are classical musicians on tour. He's not always confident of his mother's love, but being with his grandmother helps him understand her a little better.
He also spends time thinking about who he is. What is the "truth of me." Is it okay to want to be like his grandmother, who is a little wacky? Is it okay to want more from his mom? This story stuck with me, and all I'd say is missing is more, though it truly is a full story.
Check out our current giveaways. Subscribe to our feed. Follow us @5M4B on Twitter or on Facebook.