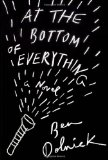 What kind of ties can childhood friendships have on us as adults? How responsible are we for other people in our lives? When terrible mistakes have been made, how much do we have to do to own up and try to put things right, if things can ever be put right? Can one night completely change a life, or would that life have headed in that direction anyway? This book begins to answer these questions, and many more. A tale that looks at friendships, at responsibilities, at guilt and mental illness and the connection between the two, At the Bottom of Everything
also tells a really good story.
Adam and Thomas become friends in junior high. Thomas is a weird kid–preternaturally brilliant and adult, with few friends amongst the giggling, punching junior high kids. Adam and he begin to spend time together, to the great relief of Thomas' parents, who've been worried about their son's ability to make friends his own age. Soon Adam is spending every afternoon at Thomas' house, eating supper there every night. The two are typical in many ways, spending time hanging out, egging each other on to new deeds. But one terrible night when they are 15, things spiral out of control into consequences no-one could have foreseen.
Now, 12 years on, Adam has dropped completely out of Thomas' life. He avoids emails from Thomas' parents, and turns the other way if he happens to see one of them in a grocery store. His own life is spinning its wheels; he is contemplating law school, tutoring kids, having an affair with the mother of one of his tutees, and facebook-stalking his old girlfriend. Meanwhile, Thomas' parents are growing more and more frantic, watching helplessly as their son withdraws, drops out, and eventually goes to India, where he studies under a guru. Finally, inevitably, Adam is drawn back into Thomas' life, to the point where he has to take a journey to India to search for Thomas and in finding him, find some peace with the past.
The story is told mostly from Adam's point of view, with some emails, and excerpts from a spiritual guidance book put out by Thomas' guru thrown in. Initially, the timeline goes back and forth between adolescence and adulthood, although once Adam leaves for India it stays in the present.
What makes this book really stand out is the quality of the writing. Adam's voice feels very real and engaging, even when you are frustrated with his choices. The turns of phrases throughout the book will stick in your mind. This novel by Ben Dolnick is a story ultimately of friendship and the ties that connect us to one another, of how we save each other in different ways and from different things. Highly recommended.