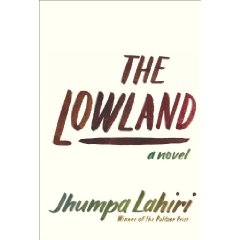 Jhumpa Lahiri's The Namesake is probably one of my favorite books (and surprisingly, I even love the movie), and she won a Pulitzer Prize for debut short story collection, so any new novel comes with high expectations.
The story begins in India, in the home of brothers Subhash and Udayan. We follow them and others in their lives over a period of about 50 years, both in India and in America.
The writing in The Lowland is evocative, but she holds the characters at a distance. Characters such as Subhash, who travels to America from Calcutta to continue his education and falls in love with Rhode Island, are honorable, yet I didn't feel I was able to know and love him as much as I could have if I had been made privy to more intimate descriptions or internal dialogue from him.
The same could be said for Bela, the young girl who grows up as a first generation American, and is pained by the emotional distance from her mother. We know this, it's obvious, but again, there is some distance in the storytelling that prevented from fully connecting or identifying or even sympathizing with her at times.
Udayan, Subhash's brother, stays in Calcutta, involved in a revolutionary movement. Perhaps it is meant to be his story, even though he's absent from much of it, but since I identified with him least of all, maybe that's why the story fell flat to an extent.
There is a complete story arc, which I definitely appreciated. The point of view, place, and time shifts narratives throughout the story, and it's a testament to Lahiri as a writer that this is easy to follow.
This novel had it's strengths and weaknesses. I wasn't sorry that I read it, and I know I'll think of these characters, but honestly, I wish that I could have known them better.