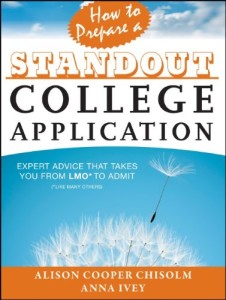 If you want to go from LMO (like many others) to admit, as the subtitle claims, check out How to Prepare a Standout College Application. My daughter is just a sophomore in high school (just?? UGH — how did that happen??), but the tips given are helpful as we will be moving into full-on college mode next year, from deciding what standardized to take and when to take them, to college visits and a narrowing of scope, and what activities to spend time on to help prepare her. The book addresses all of those issues as well. Other items that will be of interest to high school students of any stage is how to build (and later, effectively communicate) your resume. And lastly, the information is tailored to students in various situations, including those living out of the country, or those who have been homeschooled.
If you have a senior, many of them have likely sent out applications already or are putting finishing touches on them, but with everything being online, changes can always be made. I found the recommendation letter section to be quite helpful, which could be used on scholarship applications throughout this next year. The chapter suggests who to use to recommend, how to approach them, and even how to couch them to get the maximum impact. It was ingenious!
As I browsed through the book, I also found some serious myth-busting. For example, I've heard people say that if one essay is required or suggested, but others are optional, that you should do all the ones available to cover all your bases. But Chisolm and Ivey remind the reader that the admission officers don't want to wade through a lot of extra fluff, and that unless needed, a stronger single essay is better than a bunch of random ones.
Throughout, they focus on their admissions strategies, and I found one that seemed to be the overarching thread: Tell your story.
You might wonder what makes Alison Cooper Chisolm and Anna Ivey so sure that they know the right way to stand out. Well, they both work at Ivey College Consulting, a coaching firm that has helped applicants around the world get into top U.S. colleges. Their collective experience includes work in the admissions offices of University of Chicago, Dartmouth and Southern Methodist University. They attended (so thus, got into) Yale and University of Virginia law school and Columbia and University of Chicago law schools, respectively.
Check out our current giveaways. Subscribe to our feed. Follow us @5M4B on Twitter or on Facebook.
Enter to Win! The giveaway is closed.
One of you (U.S. only) can enter to win a copy of this book that I look forward to utilizing even more in the coming years.
Just start by putting your email address in the Giveaway Tools widget below: