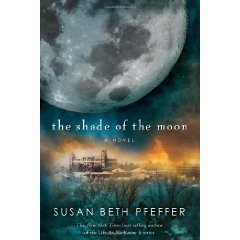 Life As We Knew It came out in 2006 before Hunger Games really sparked the YA dystopian craze. It was a strong novel, about the effects on the earth's climate when the moon gets knocked off its orbit. It stands on its own, and I was surprised when a 2nd book came out a couple years later. But what keeps this series fresh — especially this 4th offering which reinvigorates the whole story — is that the book is more about the event, not necessarily the characters.
The first novel followed 16-year-old Miranda and how the disaster affects her and her older and younger brothers. The second takes us to a different city with a whole different cast of characters. The 3rd brings the two sets of characters together.
The Shade of the Moon: Life As We Knew It Series, Book 4 looks at their lives in an enclave. Matt was selected to go live there with his stepmother and younger half-brother, because he was the youngest and had the most potential to realize. His mom Laura and sister Miranda are living outside the enclave, and are known as "grubs," those who serve the "clavers" in the enclave or are workers within the grub town.
The story takes place 4 years after the incident, and things are just getting worse. The air quality is affecting everyone, the differences between those who have and those who have not create even more problems. This is Matt's story, and he represents this conflict perfectly.
I also like that each book does stand on its own, which isn't always the case in this type of series. At the end of this one, the door is definitely left open to another book in the series, and I'd say this is possibly the most "cliffhangy" ending of the series, but even so, it stands on its own, telling a complete story.
CONTENT:
The first book is appropriate for a younger audience, as young as 5th or 6th grade, but the subsequent novels, including this one, are much more grim and explicit. There is murder, death by natural causes, and rape. These are good novels, but I'd only recommend them for readers at least 8th grade and up. Re-reading this paragraph and the topics I listed gave me pause about the age recommendation, but it's handled in an appropriate way. Dystopian fiction is harsh, but I think that because it doesn't have a realistic setting, it reads as fantasy and so it's easier to digest.