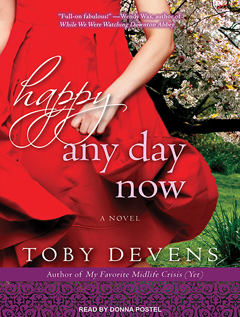 Judith Raphael has a casual boyfriend, good friends, a devoted mother, and an amazing job as the second-chair cellist for the Maryland Philharmonic. The novel centers around her plans for her 50th birthday party, a big number that she doesn't fear as much as celebrate. She's ready to be Happy Any Day Now.
A lot of "chick lit" or light women's fiction focuses on women in the 20's or 30's. I realized that I'm closer to Judith's 49 than many of those heroines (and certainly closer to her than the teens I read about in YA fiction), and a novel featuring this demographic felt fresh to me.
Judith and her co-worker Jeff have a type of friends-with-benefits relationship. They are definitely friends, but will the playboy ever want to settle down with just one woman? When Judith runs into her college sweetheart who dumped her after his mother didn't approve, she decides that second chances don't come along that often, and they decide to give the relationship that neither of them ever quite forgot another spin.
When her dear friend, and principal cellist gets too sick to keep his position, Judith knows that she should audition, but the stakes are high. If she doesn't pass the blind audition, she'll probably have to resign, because it would be awkward to sit under someone who beat her out for the top spot.
Her father left her and her mother when Judith was just a little girl, and now all of sudden, he's back too. Her mother seems to accept him, but Judith can't forgive the fact that he just walked away and left them to struggle financially and emotionally.
The orchestral work setting added interest, as did the diverse cast of characters (and some of them are characters in the true sense of the word!), making Happy Any Day Now by Toby Devens satisfying on many levels — humor, life-transition, romance, work passions and more.
AUDIOBOOK NOTES:
The reader Donna Postel did a great job with Judith's voice. It was a good match. She also did an amazing job with the various accents of the cast of characters: Australian Jeff, Korean mama, Brooklyn Jewish dad.
I've found that I really enjoy audio versions of light women's fiction, and this one was a treat. You can hear an audio sample at the Tantor Audio page for Happy Any Day Now.